Possibilities for using travertine from the Nabigori deposit, village of Velmej (western Macedonia), as architectural stone
Orce Spasovski

Daniel Spasovski
Abstract
The travertine from Nabigori, near the village of Velmej in western Macedonia, has been examinedin order to determine the possibility to use it as architectural stone. The analyses and the laboratory examinationswere performed on samples of travertine. The samples were taken from the surface parts. The results from theirphysical mechanical examinations showed that the rock mass itself satisfies the requirements to be used as an architecturalstone, according the standards in Macedonia. The quality of the stone is higher in the deeper parts of the fieldwhere the external influences have very small effect. This stone has highly decorative features, and also it has finegrained structure which is a positive effect for the technical characteristics and processing.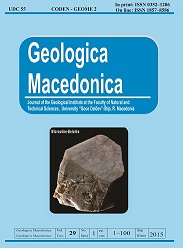 How to Cite
SPASOVSKI, Orce; SPASOVSKI, Daniel. Possibilities for using travertine from the Nabigori deposit, village of Velmej (western Macedonia), as architectural stone.
Geologica Macedonica
, [S.l.], v. 29, n. 1, p. pp. 47-52, june 2015. ISSN 1857- 8586. Available at: <
http://js.ugd.edu.mk/index.php/GEOLMAC/article/view/1009
>. Date accessed: 06 dec. 2019.