PALEOECOLOGICAL SIGNIFICANCE OF BENTHIC FORAMINIFERAL FAUNA FROM THE OVČE POLE BASIN, REPUBLIC OF MACEDONIA
Violeta Stojanova

Goše Petrov
Abstract
This paper presents paleoenvironmental interpretation of the Eocene beds in Ovče Pole basin in the NE part of the Republic of Macedonia on the basis of data obtained from research of foraminiferous associations. Foraminifera were obtained from 6 sections (79 samples) comprising the marlyclayey succession of Late Eocene age. We define and illustrate 10 morphological groups. Each group primarily reveals life-style and feeding strategy of foraminifera. The present article aims to expand the paleoenvironmental analysis by combining of the morphological features with inferred life-style and feeding strategy of the foraminifera. Comparison of our morphogroup system to modern and fossil ones is outlined accordingly. Generally, the investigated assemblages are slightly dominated by morphogroups characteristic for shallow (shelf) environment.
Key words: benthic foraminifera; morphogroups; paleoecology; Paleogene; Ovče Pole basin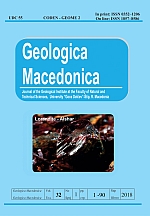 How to Cite
STOJANOVA, Violeta; PETROV, Goše. PALEOECOLOGICAL SIGNIFICANCE OF BENTHIC FORAMINIFERAL FAUNA FROM THE OVČE POLE BASIN, REPUBLIC OF MACEDONIA.
Geologica Macedonica
, [S.l.], v. 32, n. 1, p. 45-57, june 2018. ISSN 1857- 8586. Available at: <
http://js.ugd.edu.mk/index.php/GEOLMAC/article/view/2314
>. Date accessed: 17 july 2019.