THE RHETORIC BEHIND POLITICAL RESIGNATION SPEECHES
Abstract
By means of critical discourse analysis (CDA), the aim of this research is to shed some light on the resignation speeches of the last three British Prime Ministers – Gordon Brown, David Cameron, and Theresa May. The study investigates the topics the three politicians cover in their resignation speeches in light of the socio-political circumstances relevant at the time when each of the resignation speeches was delivered. It also attempts to disclose how these topics assist the politicians in achieving their goals and whether any common pattern in all three speeches occurs. Additionally, the study looks into the rhetorical devices (positive and negative lexis and various figures of speech) politicians employ to make their resignation speeches sound more convincing, reassuring and less detrimental to their political reputation. The analysis showed that in all three resignation speeches, the politicians dwell on their experiences and achievements as PM and offer a profuse praise for their country. Understandably, positive lexis abounds in tackling these topics. In stating the reasons for their resignation, they only hint at who the 'culprit' for their failure is. This means that no overt criticism and almost no negative lexis is tracked down in the analysed speeches. Additionally, the analysis reveals that although figurative speech is only moderately used, still it is an indispensable part of political resignation speeches which endows them with versatility and effectiveness.
Keywords: resignation speeches, politicians, lexis, figures of speech.
Downloads
Download data is not yet available.
References
Al-Majali, W. (2015). Discourse Analysis of the Political Speeches of the Ousted Arab Presidents during the Arab Spring Revolution uing Halliday and Hasan's Framework of Cohesion. Journal of Education and Practice, (6)14, p.98. Accessed on 10.09.2019. www.iiste.org ISSN 2222-1735.
Ayeomoni, M. (2012). Language and Political Ideology in the Nigerian Military Coup Speeches: A Case Study of General Aguiyi Ironsi's, General Yakubu Gowon's and General Murtala Muhammed's. Lumina, 22(2), p.1-30.
Bird, C. (2011). The Discourse of American Tragedy: An Analysis of President Clinton's Rhetoric as it Functions to Construct Reality, Shape Community, and display Presidential Eloquence. M.A. Thesis, Central Michigan University, Michigan.
Carreon, J. R., & Svetanant, C. (2017). What Lies Underneath a Political Speech? Critical Discourse Analysis of Thai PM's Political Speeches Aired on the TV Programme Returning Happiness to the People. Open Linguistics 3, p.638–655.
Chilton, P. (2004). Analysing Political Discourse: Theory and practice. London and New York: Routledge Taylor and Francis Group.
Klebanov, B.B, Diermeier, D., & Beigman, E. (2008). Lexical Cohesion Analysis of Political Speech. Political Analysis 16, p. 447–463. London: Palgrave Macmillan.
Reisigl, M. (2008). Rhetoric of political speeches. In R. Wodak & V. Koller (Eds.), Handbook of Communication in the Public Sphere. Berlin, New York: Mouton de Gruyter.
Weiss, G. & Wodak, R. (2003). Critical Discourse Analysis Theory and Interdisciplinarity. New York: Palgrave Macmillan.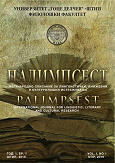 How to Cite
Neshkovska, S. (2020). THE RHETORIC BEHIND POLITICAL RESIGNATION SPEECHES. PALIMPSEST / ПАЛИМПСЕСТ, 5(9), 99-111. https://doi.org/10.46763/palim2090099n