THE CLASSROOM TEST AND THE OBJECTIVE TESTS FOR MEASURING STUDENTS ACHIEVEMENTS
Abstract
Objective tests are the instruments of the testing technique, which is used to collect data for this research. There are several types of tests depending on the purpose or the data we use. Thus, the tests can be used to test the students achievements of the subjects, personality, intelligence, and etc. The tests can measure, not only the achievement, but also the quality of the students' knowledge. Although the measurement characteristics of the classroom tests are non-standard, by answering the given tasks, items and requirements,the tests provide most of the necessary data for the research.
Keywords: Tests, scoring, assessment, tasks, teaching.
Downloads
Download data is not yet available.
References
Јованова-Митковска, С. (2007/2008). Постапки и инструменти за собирање на податоци – Тестирање и тестови на знаење. Во: Годишен зборник на Педагошки факултет. Штип: Универзитет "Гоце Делчев".
http://js.ugd.edu.mk/index.php/AMC/article/view/194/191 (пристапно на 27.3. 2020).
Клајн, Т. Џ. Б. (2015). Психолошко тестирање. Прев. Ивана Илковска. Скопје: Арс студио.
Петроска-Бешка, В. (1993). Изработка и примена на објективни тестови на знаење – прирачник. Скопје: Малинска.
Петроска-Бешка, В. (1999). Анкетирање – што, зошто, кој, како. Скопје: Филозофски факултет.
Петроска-Бешка, В. (2007). Оценување со тестови на знаење. Скопје: Филозофски факултет.
Петроска-Бешка, В. (2016). Основи на психолошко тестирање, второ издание. Скопје: Филозофски факултет.
Попоски, К. (1996). Современи сфаќања за проверувањето и оценувањето на постигнувањата на учениците. Скопје: Министерство за култура.
Ташева, Л. (2016). Вреднување на знаењата по предметот Македонски јазик кај учениците во основното образование – необјавен магистерски труд изработен под менторство на Бојковска, Ст. Скопје.
***
Haytham Ahmed Zakai. "Developing Classroom Tests". Medical Laboratory Technology Department. Faculty Applied Medical Sciences. https://www.kau.edu.sa/Files/142/Files/49461_Developing_Classroom_Tests.pdf
N. Benmostefa. "Role of Classroom Testing". https://faclettre.univ-tlemcen.dz/assets/uploads/DOCUMENTS/cours%20en%20ligne/4-RC-BENMOS.pdf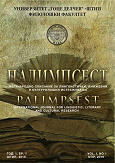 How to Cite
Grkova, M. (2020). THE CLASSROOM TEST AND THE OBJECTIVE TESTS FOR MEASURING STUDENTS ACHIEVEMENTS. PALIMPSEST / ПАЛИМПСЕСТ, 5(9), 265-273. https://doi.org/10.46763/palim2090265g
Section
МЕТОДИКА НА НАСТАВАТА / TEACHING METHODOLOGY