PERCENTAGE RATIO OF CAPSAICINOIDS AT THE FRUITS OF CAPSICUM SP. CULTIVATED IN REPUBLIC OF MACEDONIA
Vikotrija Maksimova

Liljana Koleva Gudeva

Zorica Arsova Sarafinovska

Maja Shishovska
Abstract
Abstract Capsaicin is the main compound in the group of protoalkaloids, so called capsaicinoids. Biosynthesis of capsaicinoids is specific characteristic only for secondary metabolism of the plant metabolism of genus Capsicum. Hot peppers contain vanylil conjugates of amid type, which are absent or switched with their not hot esters or isosters (capsinoids) in the mild types of peppers. The pepper, Capsicum annuum L., fam. Solanaceae, is one of the leading agricultures in Republic of Macedonia. Its fruits have been used for a long time, mainly because of its nutritive value, throught the period of all seasons, in their botanical or technical maturity. Therefore, the aim of this paper was to analyze the percentage ratio of the most common capsaicinoids, present in hot peppers, as: capsaicin, dihydrocapsaicin and nordihydrocapsaicin. In the extracts obtained from the fruits of fifteen different genotypes of Capsicum annuum L.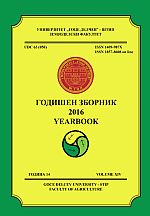 How to Cite
MAKSIMOVA, Vikotrija et al. PERCENTAGE RATIO OF CAPSAICINOIDS AT THE FRUITS OF CAPSICUM SP. CULTIVATED IN REPUBLIC OF MACEDONIA.
Journal of Agriculture and Plant Sciences
, [S.l.], v. 14, n. 1, p. 35-48, jan. 2017. ISSN 2545-4455. Available at: <
http://js.ugd.edu.mk/index.php/YFA/article/view/1777
>. Date accessed: 09 aug. 2020.