RESEARCH ON THE WORK OF RESTAURANTS, THE DAILY MEALS AND THE CATERING PROCESS THROUGH THE USERS OF THE SERVICES IN THE CATERING FACILITIES IN SHTIP AS A FACTOR IN INCREASING THE TOURISTIC COMMERCE
Juliana Sazdova

Aco Kuzelov

Goran Antonievski
Abstract
The culinary art as all other human skills has its own history and tradition in the development and the cultural progress of the human society. The food and its preparation and catering determine the characteristics of a nation. As we go more into a certain science, skill, art, the more we feel the desire and the need to discover and deepen that area of study, consequently as the knowledge grows greater, the greater is the joy of discovery. For successful work in the catering industry, and for successful catering of the guests in the catering facilities, it is necessary to discover countless combinations for preparing new dishes; also the discovery of new flavors is a job that each of us approaches with love, passion and application of certain catering rules and techniques. Therefore, we will make a research on the work of restaurants, the daily meals and the catering process through the users of the services in the catering facilities in Shtip as a factor in increasing the touristic commerce.
Keywords: daily meals, ways of serving/catering, restaurant serving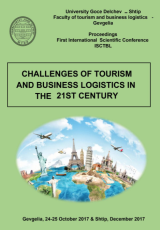 How to Cite
SAZDOVA, Juliana; KUZELOV, Aco; ANTONIEVSKI, Goran. RESEARCH ON THE WORK OF RESTAURANTS, THE DAILY MEALS AND THE CATERING PROCESS THROUGH THE USERS OF THE SERVICES IN THE CATERING FACILITIES IN SHTIP AS A FACTOR IN INCREASING THE TOURISTIC COMMERCE.
Yearbook - Faculty of Tourism and Business Logistics
, [S.l.], v. 3, n. 2, p. 135-144, feb. 2018. Available at: <
http://js.ugd.edu.mk/index.php/YFNTS/article/view/2193
>. Date accessed: 09 july 2020.