ТHE LETTER OF CREDIT AS A BANKING INSTRUMENT IN THE INTERNATIONAL TRADE OF GOODS AND SERVICES
Abstract
Foreign trade today, and in the past, is experiencing expansion as a result of human aspirations to improve working conditions and living standards, regardless of the socio-economic arrangement of the system to which it belongs and is being realized. In this sense, foreign trade is an essential link in the overall process of growth and development, and has a qualifier of the necessary segment for the development of the economy in the broadest social context. In international trade characterized by spatial distance between business partners, uncertainty and distrust, the existence of a payment instrument is of great importance, which will reduce the risk of nonpayment of the delivered goods or the delivery of already paid goods and equaliy protects both the interests of the importer and the imporeter and the interests of the exporter of goods and business entities in the business community. The intention of the author in this paper is to elaborate the letter of credit as one of the most reliable and commonly used banking instruments for international payment in the supply of goods and services. The widespread application of the letter of credit in international trade has imposed the need to prescribe rules that will explain in detail its function. Therefore, in 1933, the International Chamber of Commerce adopted a set of regulations known as Uniform Customs and Practice for Documentary Credits.
Key words: documentary credit, means of payment, issuing bank, importer, exporter.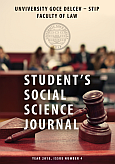 How to Cite
BOZINOVSKA, Elica. ТHE LETTER OF CREDIT AS A BANKING INSTRUMENT IN THE INTERNATIONAL TRADE OF GOODS AND SERVICES.
Student's Social Science Journal
, [S.l.], v. 1, n. 4, p. 23-31, sep. 2019. ISSN 2545-4021. Available at: <
http://js.ugd.edu.mk/index.php/sssj/article/view/3234
>. Date accessed: 28 jan. 2020.