HATE SPEECH IN THE PUBLIC DISCOURSE AND THE LEVEL OF ITS TOLERANCE IN THE MACEDONIAN SOCIETY
Cvetanka Zahova

Ana Kosturanova
Abstract
In general, the term "hate speech" means an oral or written communication or other form of public expression of attitude in any form of communication with others containing purpose, based on prejudices, discrimination, disturbance, provoking reactions or to impel a negative attitude, intolerance, hostility or violence against individuals or groups of people. Hate speech is based on race or gender, age, ethnicity, nationality, religious beliefs, sexual orientation, gender identity, disability, cultural background, moral or political views, social status, occupation, mental and physical traits or any other feature. Although the Criminal Code provides a series of incriminations about the hate speech, in reality there is a lack of judicial practice and a very small number of registered cases of criminal prosecution as a result coming from the ignorant attitude of the institutions and the reserved respect towards the statute. We are aware of numerous campaigns of NGOs who are raising awareness in the society, as well as recognizing and acting against this phenomenon. However, these campaigns aren't reaching to the citizens' consciousness which results with huge amount of hate speech in all spheres of public briefing and daily life. It's a fact that Macedonian society has a high grade of tolerance of hate speech. It remains to ask ourselves whether this is a result of the dysfunction of the institutions or because of the low level of people's conscience?!
Keywords: function, institutions, registered cases.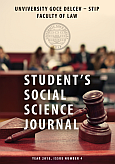 How to Cite
ZAHOVA, Cvetanka; KOSTURANOVA, Ana. HATE SPEECH IN THE PUBLIC DISCOURSE AND THE LEVEL OF ITS TOLERANCE IN THE MACEDONIAN SOCIETY.
Student's Social Science Journal
, [S.l.], v. 1, n. 4, p. 111-117, sep. 2019. ISSN 2545-4021. Available at: <
http://js.ugd.edu.mk/index.php/sssj/article/view/3236
>. Date accessed: 11 july 2020.