INDEPENDENCE OF JUDICIARY AS AN IMPORTANT POSTULATE IN BASE OF WHICH IS FOUNDED THE RULE OF LAW
Abstract
It can be stated that the idea of the rule of law originates from ancient times, dating back to the period of Solon's laws. He was the first to establish equality of the citizens under the law (isonomia). Pericles as well as Plato advocated the rule of law instead the rule of people after Plato's conclusion that there are no smart and impartial philosophers. However, the rule of law and the state of law are two different terms. The rule of law is a natural law which correlates with human rights and liberties, opposed the term state of law which is based on positive law. The rule of law is a form of the freedom of the people and not it's restriction. It is based on a few postulates one of which will be emphasized as the most important – the presence of an independent judiciary. Judges have to be secure and well paid so that they can enforce the law without fear. The independence of the judge is protected by the Constitution, national law and international agreements ratified by the Constitution. The right of the citizen to be judged by an independent and impartial judge serves as a guarantee to society that the judiciary fulfills its duty given by the Constitution and that this right is raised to the highest level being guaranteed and consistently used by various declarations, conventions and other international documents. However, it is crucial to conclude whether executive authority and political parties are able influence and exert pressure on it.
Key words: independence, judiciary, law, justice, impartiality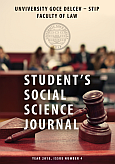 How to Cite
MITROVIK, David. INDEPENDENCE OF JUDICIARY AS AN IMPORTANT POSTULATE IN BASE OF WHICH IS FOUNDED THE RULE OF LAW.
Student's Social Science Journal
, [S.l.], v. 1, n. 4, p. 153-159, sep. 2019. ISSN 2545-4021. Available at: <
http://js.ugd.edu.mk/index.php/sssj/article/view/3243
>. Date accessed: 08 july 2020.