POLITICAL DISCRIMINATION WITH REFERENCE TO POLITICAL DISCRIMINATION IN LABOUR RELATIONS IN THE REPUBLIC OF MACEDONIA
Abstract
Discrimination primarily is defined as unequal treatment, which is illegitimately and proportionally created in a way that a specific person or a group of people is restricted or limited or is given an edge in enjoying the basic rights based on some personal marks (discriminatory signifiers ).Political discrimination signifies unequal treatment towards a specific person because of his political affiliation. In the Republic of Macedonia there is a tendency for increasing of the number of victims of political discrimination, in which I will indicate specific facts and arguments in this detailed explanation of this topic. The thing that is worrisome is that in our country instead of decreasing, political discrimination narrows down to political party discrimination i.e. discrimination based on political affiliation. In the last few years talked about the involvement of society in politics as a bad thing. Because of that I feel obligation to give my own opinion that the politically involved society is a positive occurrence, and ours doesn't look like that, ours is partitioned. I see "partitocracy" in the concept that every social activity, event is connected to a specific political party. Education, healthcare, the defense system of our contry, 25 years are a stronghold of party turmoil. Political discrimination, in its most common shape, which is party discrimination is mostly found in the sphere of labour, such as employment and in the working relation.Trough my engagement in this field I expect to more debates to occur on higher political level, so that society will be acquired as a whole.

Keywords: Partitocracy, equality, employment, justice, security.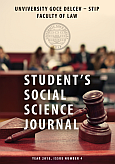 How to Cite
RAJCINOSKI, Gjorgji. POLITICAL DISCRIMINATION WITH REFERENCE TO POLITICAL DISCRIMINATION IN LABOUR RELATIONS IN THE REPUBLIC OF MACEDONIA.
Student's Social Science Journal
, [S.l.], v. 1, n. 4, p. 169-177, sep. 2019. ISSN 2545-4021. Available at: <
http://js.ugd.edu.mk/index.php/sssj/article/view/3247
>. Date accessed: 08 july 2020.