ANALYSIS OF THE COMPETITIVENESS OF RUSSIAN BANKS IN THE LENDING MARKET CREDIT CARDS
Abstract
The concept of competitiveness is multifaceted and is used on various levels – ranging from the
competitiveness of the product / service and to the competitiveness of the region / state. In relation to
economic competitiveness in General terms – the possession of property that creates benefits for
economic competition. Russia today is the most promising lending is credit cards. The level of use of
credit cards on the Russian market, in comparison with other countries, quite low, but this type of loan
causes more sympathy from consumers, and that gives him the leading position on the market. Credit
card year after year attracts a growing number of consumers. The percentage of crest-diovane with
credit cards is growing, banks are competing are together creating more favourable conditions for
holders of cards.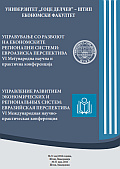 How to Cite
POPOVA, YU. S.. ANALYSIS OF THE COMPETITIVENESS OF RUSSIAN BANKS IN THE LENDING MARKET CREDIT CARDS.
Меѓународна научна и практична конференција "Управување со развојот на економските регионални системи"
, [S.l.], p. 55-59, jan. 2018. Available at: <
http://js.ugd.edu.mk/index.php/urers/article/view/2015
>. Date accessed: 08 july 2020.