BRIDGING THE INDUSTRY - ACADEMIA SKILL GAP: A CONCEPTUAL INVESTIGATION WITH SPECIAL EMPHASIS ON THE REPUBLIC OF MACEDONIA
D. Lazarov

M Kocovski

N Stojkovic
Abstract
Within the highly competitive global market, the only way for companies to succeed is to implement new production methods and hire the well-educated and highly skilled workers. Due to this arises a need for ready-for-the-job people. Moreover, there is a large number of employees who need to be skilled, re-skilled and up-skilled to meet the needs of the changing business environment. This is only possible through the active role of industry in sharing the know-how and expertise and more important the active role of academia in developing programmers closely related to industry. In that context, the main goal of the paper is to explore the link between academia and industry in Republic of Macedonia. The paper is focused on the analysis of research and development initiatives, the capacity of Macedonian education system and the industrial prospects of the country. In order to fulfill this goal we use comparative benchmark analysis based on data from national and international statistical offices and survey analysis conducted by interviewing managers from several industrial sectors and university professors. Additionally, we give several policy recommendations how the interdependence between academic and industry in the country should be accelerate by laying special emphasis on the government role.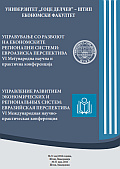 How to Cite
LAZAROV, D.; KOCOVSKI, M; STOJKOVIC, N. BRIDGING THE INDUSTRY - ACADEMIA SKILL GAP: A CONCEPTUAL INVESTIGATION WITH SPECIAL EMPHASIS ON THE REPUBLIC OF MACEDONIA.
Меѓународна научна и практична конференција "Управување со развојот на економските регионални системи"
, [S.l.], p. 136-141, feb. 2018. Available at: <
http://js.ugd.edu.mk/index.php/urers/article/view/2119
>. Date accessed: 02 july 2020.