THE AUDIT AND AUDIT REPORTS CONTRIBUTION IN IMPROVEMENT OF FINANCIAL REPORTING QUALITY AND INCREASING THE INTERNATIONAL CAPITAL MOVMENT
Abstract
High quality financial reporting is the foundation of a functioning market economy and the foundation for a healthy financial system. Investors want a clear picture of the assets and liabilities of the companies and for the environment in which тхеѕ operates. With the adoption and application of IFRS in most countries in the world allow for uniformity in presentation of the financial statements, and therefore the understanding of same from many stakeholders. Audit as scientific and professional discipline is an important support for financial and economic development in the countries. The purpose of the audit is a party to provide evidence of the reliability of the information presented, which are derived from those entrusted with the management of the assets of the company, which raises the credibility of the information and their use in making investment decisions in national and international level. Purpose of the research in this paper will be presenting the contribution of audit and audit reports to improve the quality of financial reporting and to increase the international movement of capital and the contribution and international cooperation on audit associations in order to improve the auditing profession, to encourage adherence to high professional standards in an audit profession and to enhance investor confidence in the data reported in the financial statements.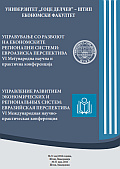 How to Cite
DIMITROVA, J.. THE AUDIT AND AUDIT REPORTS CONTRIBUTION IN IMPROVEMENT OF FINANCIAL REPORTING QUALITY AND INCREASING THE INTERNATIONAL CAPITAL MOVMENT.
Меѓународна научна и практична конференција "Управување со развојот на економските регионални системи"
, [S.l.], p. 324-331, feb. 2018. Available at: <
http://js.ugd.edu.mk/index.php/urers/article/view/2174
>. Date accessed: 02 july 2020.