SOME EXAMPLES OF ELECTRICAL IMAGING (ERT) AND GROUND PENETRATING RADAR (GPR) IN SOLVING CIVIL ENGINEERING PROBLEMS
Filip Arnaut

Branislav Sretenović
Keywords:
electrical imaging (ERT); ground penetrating radar (GPR); Engineering geology
Abstract
A few engineering geology and geotechnical case studies are seen in this research paper that are solved using two dimensional (2D) electrical imaging surveys (ERT) and, in four cases, ground penetrating radar (GPR). Case studies that demonstrate the versatility of the ERT method as well as other methods that complement obtained ERT data will be presented. Surveys of flotation tailings, detection of old mines, communal waste dumps, rock quality and lakebed surveys, and so on are among the case studies. Two-dimensional electrical scanning method proved its efficiency and cost effectiveness, especially when the survey needed a large surface area to be investigated.
Downloads
Download data is not yet available.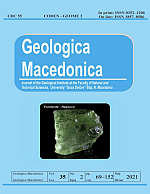 How to Cite
Arnaut, F., & Sretenović, B. (2021). SOME EXAMPLES OF ELECTRICAL IMAGING (ERT) AND GROUND PENETRATING RADAR (GPR) IN SOLVING CIVIL ENGINEERING PROBLEMS. Geologica Macedonica, 35(2), 73-84. https://doi.org/10.46763/GEOL21352073a