VULNERABILITY ASSESSMENT OF POLLUTION OF GROUND WATER IN THE ŠTIP AQUIFER WITH APPLICATION OF GOD METHOD
Darko Pižov

Vojo Mirčovski

Gjorgji Dimov
Keywords:
vulnerability; GOD-method; ground water; Štip aquifer; alluvial sediments
Abstract
The creation of vulnerability maps for potential aquifer pollution is widely used in developed countries and is a basic tool for ground water protection. This paper presents the assessment of the vulnerability from pollution of ground water in the Štip aquifer, with the help of GOD method, where are used three parameters: Type of aquifer, lithology of the unsaturated zone and depth of ground water. The data for the three parameters are obtained from the geological-hydrogeological profiles of 22 exploitation wells and exploration boreholes. Analyzing the three parameters a GOD-index value was obtained in the range of < 0.4–0.5, which corresponds to the medium vulnerability class and a value > 0.5, which corresponds to the high vulnerability class.
Downloads
Download data is not yet available.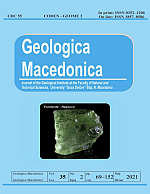 How to Cite
Pižov, D., Mirčovski, V., & Dimov, G. (2021). VULNERABILITY ASSESSMENT OF POLLUTION OF GROUND WATER IN THE ŠTIP AQUIFER WITH APPLICATION OF GOD METHOD. Geologica Macedonica, 35(2), 131–139. https://doi.org/10.46763/GEOL21352131p