POTENTIALLY TOXIC ELEMENTS IN THE DRAVINJA RIVER SEDIMENTS7 (EASTERN SLOVENIA)
Kim Mezga

Matej Dolenec

Dejan Šram

Petra Vrhovnik
Keywords:
Dravinja river, sediments, potentially toxic elements, anthropogenic activities
Abstract
The Dravinja river is an important ecosystem and water resource for the Dravinja valley. A great15 part of the valley is under Natura 2000 protection which aims to protect and preserve natural environment and biodi-16 versity. Besides the Natura 2000 programme management, the river has been under increasing environmental pressures,17 among them the potentially toxic elements (PTE) contamination due to the rapid population growth, social economy,18 urbanization, and intensive agriculture activity. This study investigated the contents of selected PTEs (V, Cr, Ni, Cu,19 Zn, As, Mo, Cd, Sb, Ba and Pb) in the Dravinja river surficial sediments. The results show that seven out of eleven20 PTEs were above the allowable and warning limits. The distribution of PTEs may be influenced by the geological21 background composition to some level but more presumably by the anthropogenic activities such as wastewater dis-22 charges, industry and intensive agriculture.
Downloads
Download data is not yet available.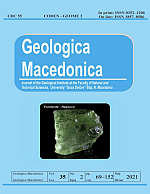 How to Cite
Mezga, K., Dolenec, M., Šram, D., & Vrhovnik, P. (2021). POTENTIALLY TOXIC ELEMENTS IN THE DRAVINJA RIVER SEDIMENTS7 (EASTERN SLOVENIA). Geologica Macedonica, 35(2), 141–150. https://doi.org/10.46763/GEOL21352141m