CHARACTERIZATION OF THE CALCITE RAW MATERIAL FROM THE MICROLOCALITIES OF SUŠIČKI MOST AND GORNA BANJICA NEAR GOSTIVAR, REPUBLIC OF NORTH MACEDONIA
Boško Boškovski

Simeon Jančev

Blagoj Pavlovski

Arianit A. Reka

Andrijana Čankuloska

Slobodan Bogoevski
Keywords:
calcite; Sušički Most; Gorna Banjica; characterization; mechanical preparation
Abstract
The aim of this research is characterization of the calcite raw material from two microlocalities: Sušički Most and Gorna Banjica near Gostivar. The properties of the calcite raw materials were defined applying complex examinations. XRD analysis determined the presence of calcite and dolomite as basic mineral phases, which was confirmed by optical transmission microscopy. The dominant content of CaCO3 was defined by chemical analysis. ICP-AES analysis confirmed a high degree of purity of the raw materials. DTA/TGA correlate with other analyses. Some basic physical properties of the raw materials were also determined. Additionally, the parameters of the mechan­ical preparation have been optimized. According to the presented results, the calcite materials which have very similar composition and approximately the same properties have a wide spectrum of application possibilities.
Downloads
Download data is not yet available.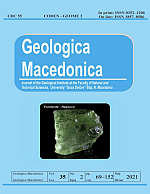 How to Cite
Boškovski, B., Jančev, S., Pavlovski, B., A. Reka, A., Čankuloska, A., & Bogoevski, S. (2021). CHARACTERIZATION OF THE CALCITE RAW MATERIAL FROM THE MICROLOCALITIES OF SUŠIČKI MOST AND GORNA BANJICA NEAR GOSTIVAR, REPUBLIC OF NORTH MACEDONIA. Geologica Macedonica, 35(2), 85–94. https://doi.org/10.46763/GEOL21352085b