Geopolitics and geoeconomics of the eurasian space in modern realities: scenarios of the strategic choice of civilizational systems
Keywords:
geo-economics, Eurasian space, socio-cultural code, development, economic systems, geo-economic weapons, countries-systems
Abstract
The article deals with the issues of the system organization of the economy and management in the Eurasian space. The methodological principles of the modern understanding of the problems of geo-economics of the world Eurasian economic and civilizational development are analyzed. Tools and technologies of geo-economic analysis of modeling and forecasting are considered: geo-economic civilizational space, geo-economic weapons, geo-economic wars, geo-economic atlas. From the socio-cultural point of view, the phenomenon of nonsystemic development of the Western Balkan states (excluding Croatia and Slovenia) is considered. Geo-economic wars at the end of the 20th century and their consequences within and along the perimeter of the Eurasian space have created "countries-systems", the development of which makes it possible to speak of the phenomenon of the use of geoeconomic weapons, the striking elements of which contribute to the formation of a philosophy of self-reliance, diversification of the economic model of the state, and the creation of a positive image. Countries - systems to form real instruments of investment attractiveness of the state, the formation of extremely effective development institutions. Determination of the main strategic goal - advanced economic development is an important tool, the derivatives of which are the patriotism of national business and representatives of state and municipal authorities in solving the problems of state development. Concerning the countries of the Balkan region, the term "non-systematicity" can be used to designate a phenomenon in which a given territory, on the one hand, is an element of a single European system and is perceived as an integral whole, but also in many ways break the connection with it. The future of the Eurasian economic space, the effectiveness of the nationallyoriented model of development of states and peoples united by the capacious name "Modern Eurasia" depend on the results of the predicted geo-economic war.
Downloads
Download data is not yet available.
References
1. Vlasov R. Russia and Serbia: geo-economics of communications, strategy of choice, civilizational break. Collection of materials of the 49th international scientific and practical conference "Actual problems of economic sciences", Novosibirsk, (2016) pp. 13-18
2. Glazyev S. Voluntary Union of Peoples. Izborsk club, (2014) - No. 2. pp.10-12
3. Karl von Clausewitz. About war. In 2 volumes, Moscow, (2002)
4. Karl Jaspers. The meaning and purpose of history , Moscow, (1991)
5. Maksakova M. Trends in the development of economic cooperation between Russia and the countries of the Western Balkans. – Monograph (2015) pp.102-105
6. Posazhennikova A. Institutes of macroeconomic development: methodology of project-oriented management, institutions of infrastructure for the development of the Eurasian space. Collection of materials of the 49th international scientific and practical conference "Actual issues of economic sciences" , Novosibirsk, (2016) pp. 23-30
7. https://www.worldbank.org/en/home
8. Terzic S. Old Serbia (XIX-XX centuries) The drama of a European civilization. Monograph, (2015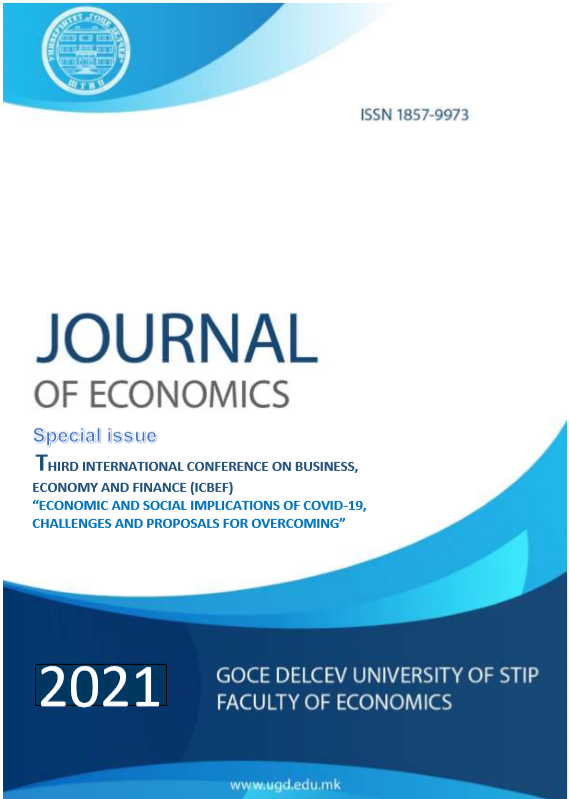 Section
Economics (Microeconomics, Macroeconomics, International Economics)