Managing the monetary and fiscal efforts to alleviate the turbulence from the COVID-19 crisis in the world and in our country
Marija Gogova Samonikov

Elena Veselinova
Keywords:
COVID -19, Managing, Monetary and fiscal policy
Abstract
Data says that nearly 128 million people have been infected with COVID-19 and more than 2.5 million people have died worldwide. This has been further compounded by an economic crisis caused by the disease's disruption to the world economy, resulting in millions of people losing their livelihoods, exacerbating global poverty and inequality.
The International Monetary Fund (IMF) estimates that the world economy, as measured by real gross domestic product (GDP), shrank by as much as 3.5% in 2020. The MSCI All Country World Index (ACWI), which tracks large- and mid-cap companies in 50 developed and emerging countries around the world, fell into a bear market during March 2020, and didn't pass its pre-COVID-19 high until late August.
In response to this crisis, governments and central banks worldwide have enacted sweeping and sizable stimulus measures to counteract the disruption caused by the coronavirus and provide relief to those suffering from the pandemic.
Did these measures work? What is the right way out of the crisis? How long will this turbulence last? How long will the consequences last? Some of these questions are subject to variable answers, and some of these questions have yet to be answered. The purpose of this paper is to compare the measures implemented by countries and identify the best way to manage them to achieve faster economic recovery. Methods of analysis, comparisons and statistical calculations were used to show the real picture of the current situation.
Downloads
Download data is not yet available.
References
1 Wall Street Journal. "China Becomes First Major Economy to Start Withdrawing Pandemic Stimulus Efforts," Accessed March 30, 2021.
2 Reuters. "China c.bank cuts 14-day reverse repo rate, injects net 40 bln yuan," Accessed June 18, 2020.
3 International Monetary Fund. "POLICY RESPONSES TO COVID-19." Accessed June 13, 2021. On March 13, the PBOC lowere
4 S&P Global Market Intelligence. "China asks banks to up lending, relief to small business despite rising defaults," Accessed June 17, 2020.
5 Bank of Russia. "The Bank of Russia cuts the key rate by 100 bp to 4.50% p.a.," Accessed September 3, 2020.
6 The Moscow Times. "In 4th Coronavirus Address, Putin Calls for Stronger Business Support," Accessed May 13, 2020.
7 European Central Bank. "ECB announces new pandemic emergency longer-term refinancing operations," Accessed May 13, 2020.
8 Bruegel. "The fiscal response to the economic fallout from the coronavirus," Accessed May 13, 2020.
9 France24. "France boosts Covid-19 economic rescue package to €110 billion," Accessed May 13, 2020.
10 Ministry of the Economy and Finance. "Protect health, support the economy, preserve employment levels and incomes," Accessed May 13, 2020. 11 Bank of England. "Monetary Policy Summary for the special Monetary Policy Committee meeting on 19 March 2020," Accessed March 19, 2020.
12 GOV.UK. "Chancellor announces additional support to protect businesses," Accessed May 13, 2020.
13 Bank of Canada."Bank of Canada lowers overnight rate target to 1 ¼ percent," Accessed March 16, 2020.
14 Department of Finance Canada. "Canada outlines measures to support the economy and the financial sector," Accessed March 16, 2020.
15 https://vlada.mk/
16 https://www.nbrm.mk/
17 https://finance.gov.mk/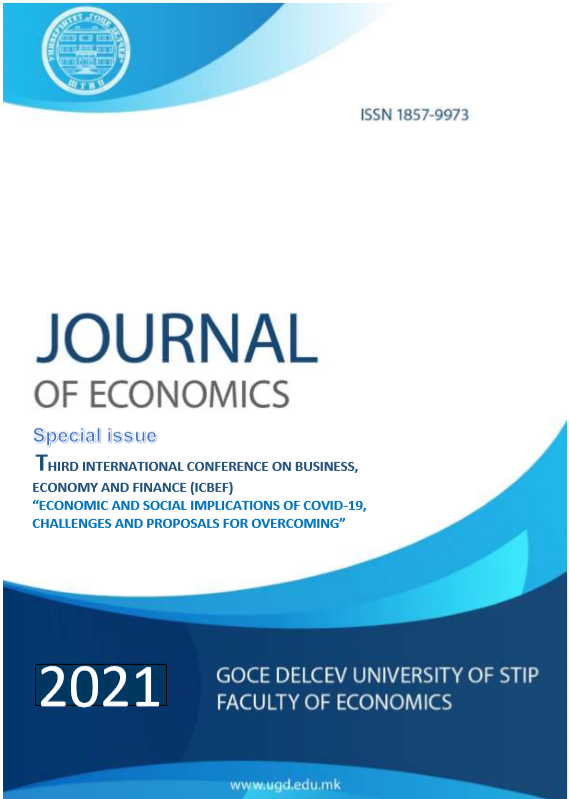 Section
Economics (Microeconomics, Macroeconomics, International Economics)