The Albanian Mutual Funds during the COVID pandemic
Keywords:
Mutual Funds, Investor behavior, COVID, Finance, Albania
Abstract
The COVID-19 pandemic caused a lockdown of a global scale and subsequent enforcement of
it had an impact in the capital markets, and the Albanian mutual fund industry would not remain
an exception. Such crisis put the industry into an unprecedented stress test. This paper uses
qualitative research method to identify the challenges that were faced by the mutual fund
industry during the beginning of the pandemic. This includes the fund flow perspective,
secondary debt markets, the shifts of regulations and the behavior of investors. The conclusions
that will be drawn from this study are aimed to help capital market investors and researchers in
drawing strategies in the Albanian market during crisis times. Albania is recognized as an
emerging economy and during its ongoing stage of development, the COVID-19 pandemic
caused turbulences in the economic stability of the country. With many measures put in motion
in order to reduce the impact of the pandemic upon the population, all the sections of the
economy have been facing disruption. The capital market, likewise, was met with a lot of
challenges during this period. Although, history has shown that the Mutual Fund (MF) industry
has always bounced back significantly after taking a hit. Considering the impact of the crisis, the
regulator, Financial Supervisory Authority (FSA), closely supervised the liquidity to ensure the
mutual funds would be able to operate in stressful conditions and in the best interest of the
investor. For this study, a Qualitative research method is applied by using Histographical
research approach, regarding the past and present events that are associated with the Albanian
Mutual Fund Industry. Furthermore, data from regulator websites, company websites, business
newspapers in physical and digital forms are used in the study as well as research papers.
Moreover, data from financial statements of the Mutual Funds (MFs) has been sourced from the
websites of Asset Management Companies (AMCs).
Downloads
Download data is not yet available.
References
1. IMF Statistics Albania for 2020
https://www.imf.org/en/News/Articles/2020/09/28/mcs092820-albania-staff-concludingstatement-
of-the-first-post-program-monitoring-mission
2. OECD, Crisis Response SEE Report, 2020
https://www.oecd.org/coronavirus/policy-responses/covid-19-crisis-response-in-south-easteuropean-
economies-c1aacb5a/
3. INSTAT, Foreigners Movement Report, 2020
http://www.instat.gov.al/al/temat/industria-tregtia-dhe-shërbimet/turizmi/publikimet/2020/lëvizjete-
shtetasve-korrik-2020/
4. European Commission, CCEQ Report, Q4 2020
https://ec.europa.eu/info/sites/default/files/economy-finance/tp046_en.pdf
5. IMF, World Economic Outlook, 2021
https://www.imf.org/en/Publications/WEO/weo-database
6. (AMF, Brief History, nd)
https://amf.gov.al/pershkrim.asp?id=1
7. Bank of Albania, Periodic Report, Q4 2019
https://www.bankofalbania.org/rc/doc/RPM_2019_IV_shqip_shtojca_15970.pdf
8. AMF, Board Decision 29th Dec, 2020
https://amf.gov.al/news.asp?id=32639
9. Bank of Albania, COVID-19, 2020
https://www.bankofalbania.org/Shtypi/Pergjigjja_e_Bankes_se_Shqiperise_ndaj_COVID-19/
10. AMF, Board Decision 7th Apr, 2020
https://amf.gov.al/news.asp?id=32466
11. Aruna Polisetty, Indian MF during COVID pandemic times, 2020
https://www.researchgate.net/publication/343389834_Indian_Mutual_Funds_during_COVID_pa
ndemic_times
12. AMF, Statistika TFI, 2020
https://amf.gov.al/statistika.asp?id=5&s=2
13. Raiffeisen Invest Fund Data
https://www.raiffeisen-invest.al/sq/web/guest/investment-funds
14. WVP Fund Data
https://www.wvpfunds.al/wvp-top-invest
15. Credins Invest Fund Data
https://www.credinsinvest.com/performanca-e-fondit-credins-premium/
16. Albsig Invest Fund Data
https://www.albsiginvest.al/performanca-e-fondeve/
17. AMF, Periodic Report, Q4 2020
https://amf.gov.al/pdf/publikime/FondeInvestimi31122020_1.xls
18. Bank of Albania, Interest Rates Report, 2021
https://www.bankofalbania.org/Tregjet/Normat_e_interesit/
19. Credins Invest Financial Statements
https://www.credinsinvest.com/raporte-financiare-fondin-e-investimit/
20. Raiffeisen Invest Financial Statements of Funds
https://www.raiffeisen-invest.al/sq/raportet-financiare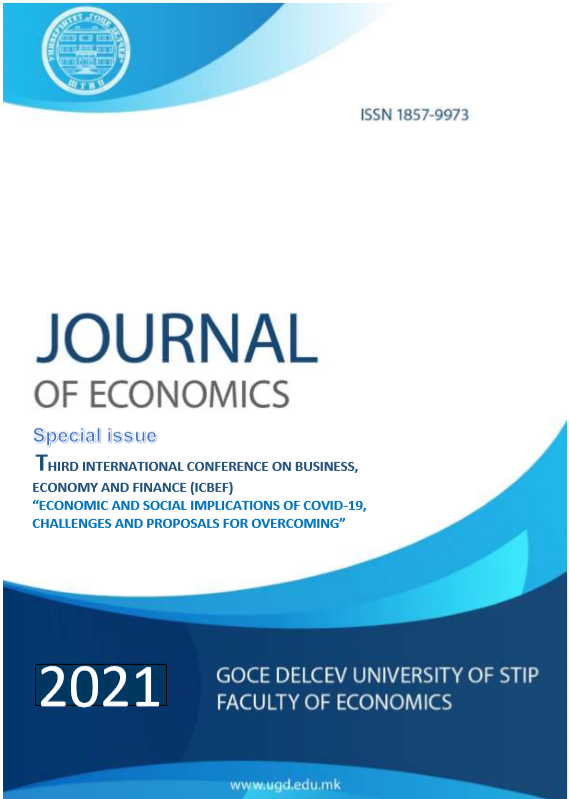 Section
Banking and Finance