The burden on the accountants caused by Covid-19 pandemic
Janka Dimitrova

Olivera Gjorgieva-Trajkovska

Eftimija Dimitrova
Keywords:
Covid-19 pandemic, anti-crisis measures, accountants, financial support
Abstract
The Covid-19 Pandemic imposed many changes and challenges in the daily lives of the
citizens and the functioning of the business sector. For more effective protection,
precautionary measures were adopted and restrictions on the movement of citizens were
introduced. Vulnerable categories of employees (chronically ill, pregnant women, mothers
with small children, ....) were advised not to go to work. A number of businesses have
disrupted the production process both to prevent the spread of the pandemic and due to
canceled orders from the customers. Many workers lost their jobs. Administrative workers
perform their duties from home. Many companies (depending on the industry) have also
adapted and are working from home.
In order to alleviate this situation, six packages of financial support measures were
adopted, which were intended for the business sector and the citizens, in order to provide
basic conditions for normal functioning and living. The financial support for the business
sector was conditioned by the fulfillment of certain criteria (income, number of employees,
....) and a request had to be submitted within the set deadlines which were too short. For
submitting the requests for the financial support, for the interest-free loans, for the
deferred payment of liabilities, as well as for all liabilities arising from the Covid-19
pandemic (monitoring the movement of income, the number of employees, the amount of
salaries paid, warnings about unpaid debts, administrative deductions from salary, ...)
accountants were obliged. Despite all the risks posed by the pandemic, accountants had
to work because they were the logistical support to the business sector and responsible
for the accuracy of the information presented in the financial statements and tax returns.
Accountants are an extremely important link between the business sector and the state.
They are responsible for calculating all taxes and contributions that fill the budget and on
their shoulders have implemented all measures (financial support, deferred payment of
interest, interest-free loans, ....) intended to alleviate the situation caused by the Covid-19
pandemic in the economy. Therefore, the purpose of this paper is to conduct research to
identify the problems encountered during the operation under Covid 19. The research will be conducted by means of a questionnaire submitted to the accounting firms registered in
the register of the Institute of Accountants and Certified Accountants. According to the
answers to the questionnaire, we will give suggestions for overcoming the problems and
improving the situation.
Downloads
Download data is not yet available.
References
1. Law on Accountants and Certified Accountants
https://isos.com.mk/index.php/zakon-za-smetkovoditeli-2
2. https://vlada.mk/ekonomski-merki-covid19
3. https://chamber.mk/tag/komora-na-smetkovoditeli/
4. https://fondzarazvoj.gov.rs/cir/proizvodi/likvidnost-covid19
5. http://www.pravno-informacionisistem.
rs/SlGlasnikPortal/eli/rep/sgrs/skupstina/zakon/2021/40/6/reg
6. https://www.rts.rs/page/stories/ci/story/5/ekonomija/4383502/ana-brnabic-isplatapomoci-
kim-pocetak.html
7. https://www.koronavirus.hr/vladine-mjere/101
8. https://www.gov.si/teme/koronavirus-sars-cov-2/odpravljanje-posledic-epidemije/petipaket-
ukrepov-za-omilitev-posledic-epidemije-pkp5/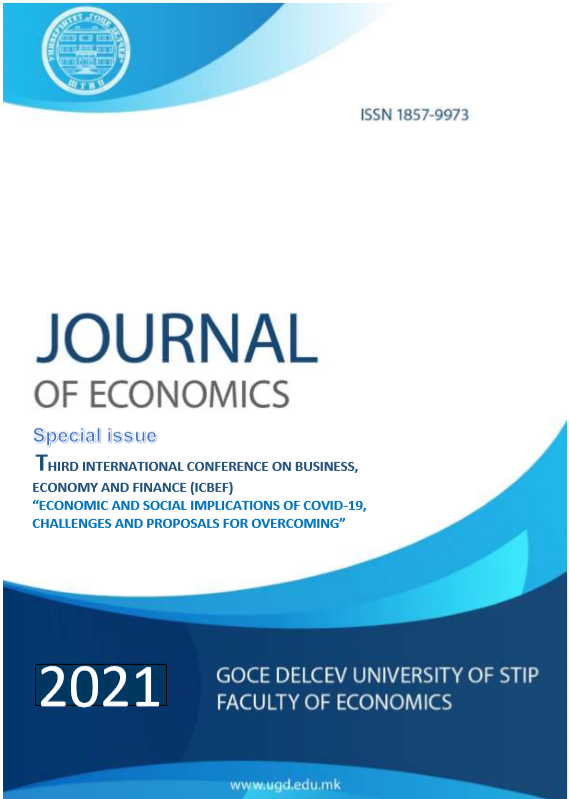 Section
Accounting and Auditing