BIOACCUMULATION OF SOME TOXIC ELEMENTS BY ENDEMIC PLANT SPECIES ONOBRYCHIS DEGENII DÖRFLER, KNAUTIA CAROLI-RECHINGERI MICEV. AND CENTAUREA KAVADARENSIS MICEV. FROM ALLCHAR LOCALITY, REPUBLIC OF MACEDONIA
Katerina Baceva Andonovska

Trajče Stafilov

Vlado Matevski
Abstract
Allchar mine, located in the southern part of the Republic of Macedonia, is a unique deposit within the world, due to the variety of its mineral composition especially in the high content of arsenic and thallium. The goal of this investigation was to establish the intensity of accumulation of various elements (Ag, Al, As, Ba, Ca, Cd, Co, Cr, Cu, Fe, Ga, K, Li, Mg, Mn, Mo, Na, Ni, P, Pb, Rb, S, Sb, Sr, Tl, V and Zn) with focus on As, Sb and Tl, in three endemic plant species from Allchar locality, Onobrychis degenii Dörfler, Knautia caroli-rechingeri Micev. and Centaurea kavadarensis Micev. Samples of different parts of these plants and corresponding soils were collected, prepared, digested and then analyzed by inductively coupled plasma – atomic emission spectrometry (ICP-AES). From this investigation it was found that the content of As and Tl in soil samples that were taken from the locations where the plants grow was high ranged from 102 mg/kg to 5288 mg/kg and from 4.45 mg/kg to 409 mg/kg, respectively. In comparison to the content of As and Tl in soil samples, the content of Sb was lower ranged from 8.4 mg/kg to 80.7 mg/kg. The results showed that the accumulation of As, Sb and Tl in the investigated endemic species is significant, indicating that they are able to hyperaccumulate toxic elements in their roots and shoots. Accumulation of these elements in the studied endemic species may be used as a valuable tools for bioindication, while, from the other hand, the accumulation of these toxic elements in the plants can cause high risk to the human and animal health.
Key words: accumulation; mobility; antimony; arsenic; thallium; endemic; plant; Allchar; BAF; BTF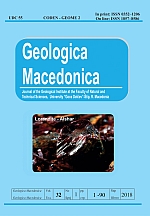 How to Cite
BACEVA ANDONOVSKA, Katerina; STAFILOV, Trajče; MATEVSKI, Vlado. BIOACCUMULATION OF SOME TOXIC ELEMENTS BY ENDEMIC PLANT SPECIES ONOBRYCHIS DEGENII DÖRFLER, KNAUTIA CAROLI-RECHINGERI MICEV. AND CENTAUREA KAVADARENSIS MICEV. FROM ALLCHAR LOCALITY, REPUBLIC OF MACEDONIA.
Geologica Macedonica
, [S.l.], v. 32, n. 1, p. 33-44, june 2018. ISSN 1857- 8586. Available at: <
http://js.ugd.edu.mk/index.php/GEOLMAC/article/view/2312
>. Date accessed: 16 july 2019.