Geochemistry and origine of thermo-mineral waters on Kožuf mountain
Abstract
The paper presents the results of geochemical surveys of the representation of trace elements inthermal mineral water from Kožuf Mountain and investigations relating to the representation of the stable isotopes ofhydrogen and oxygen. The results displaying the representation of trace elements suggest that the water is enrichedwith arsenic, uranium and cesium, while other trace elements are within permissible concentrations. Studies on therepresentation of isotopes d18O, dD indicate that the values of stable isotopes are placed near the route of water fromprecipitation. This indicates that the water in primary reserve tanks is renewed with the water that comes from currentrainfall.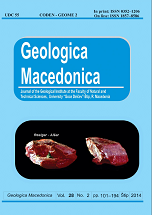 How to Cite
BOEV, Blazo; JANCEV, Mitko. Geochemistry and origine of thermo-mineral waters on Kožuf mountain.
Geologica Macedonica
, [S.l.], v. 28, n. 2, p. pp. 165-174, dec. 2014. ISSN 1857-8586. Available at: <
http://js.ugd.edu.mk/index.php/GEOLMAC/article/view/923
>. Date accessed: 13 aug. 2020.