Possibilities for using travertine from the Nabigori deposit, village of Velmej (western Macedonia), as architectural stone
Orce Spasovski

Daniel Spasovski
Abstract
The travertine from Nabigori, near the village of Velmej in western Macedonia, has been examinedin order to determine the possibility to use it as architectural stone. The analyses and the laboratory examinationswere performed on samples of travertine. The samples were taken from the surface parts. The results from theirphysical mechanical examinations showed that the rock mass itself satisfies the requirements to be used as an architecturalstone, according the standards in Macedonia. The quality of the stone is higher in the deeper parts of the fieldwhere the external influences have very small effect. This stone has highly decorative features, and also it has finegrained structure which is a positive effect for the technical characteristics and processing.
Downloads
Download data is not yet available.
References
Бундевски, Н.: Елаборат за геолошки истражувања на травертин на локалитетот Набигори, с. Велмеј – Белчиште. Стр. фонд. на РИ Завод ЕП ДОО Скопје (1974).
Думурџанов, Н., Ивановски, Т.: Толкувач за листот Охрид–Подгардец за ОГК 1:100 000 (1972).
Илиќ, М.: Резултати петрографско-геолошких проматрања на листу Ресен–Крушево. Годишњак Геол. Инст. Краљ. Југославијe. Београд (1940).
Ивановски, Т.: Геолошки извештај за сулфатните појави на селата Косел, Песочани. Вапила и Влгоште. Стручен фонд на Геолошки завод – Скопје (1956).
Ивановски, Т., Несторовски, И.: Тектоника на западна Македонија. Симпозиум за Динаридите. Загреб (1968).
Измајлов, Н.: Железо-руден басен во западна Македонија. Трудови на Геолошки завод Скопје. Св. 5 (1956).
Јаранов, Д.: Sur la geologie Macedonie occidentale. Трудови на ЗГИМ, Скопје. Св. 1 (1947).
Јаранов, Т.: Грабените на Црн Дрим. Трудови на Геолошки завод на НРМ, Скопје. Св. 2 (1951).
Köber, L.: Leitlinen der Tektonik Jugoslawins. Посебно издање САН, књ. 189. Геолошки институт САН, књ. III – Београд (1952).
Kossmat, F.: Geologie der Zentralen Balkanhalbinsel mit einer ubersicht des dinarischen Gebirgsbau. Berlin, 1924.
Михајловиќ, Ј.: Земјотресни области во Македонија. Трудови на Геолошки завод на НРМ, Скопје. Св. 2 (1951).
Паскалев, В. и др.: Елаборат за рудни резерви на травертин во лежиштето Набигори, с. Велмеј–Белчиште со состојба 31. 12. 1997 год. Стр. фонд на РИ Завод, ЕП ДОО Скопје (1997).
Цвијиќ Ј. (1906): Основи за геологију и географију Македоније и старе Србије. књ. I, Београд (1997).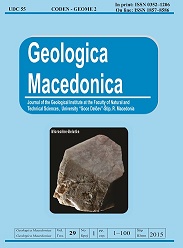 How to Cite
Spasovski, O., & Spasovski, D. (2015). Possibilities for using travertine from the Nabigori deposit, village of Velmej (western Macedonia), as architectural stone. Geologica Macedonica, 29(1), pp. 47-52. Retrieved from https://js.ugd.edu.mk/index.php/GEOLMAC/article/view/1009