Mineralogical-petrographic and physical-mechanical characteristics of the travertine and onyx from Bešište village (western Macedonia)
Оrce Spasovski

Blagica Doneva

Daniel Spasovski
Abstract
The travertine and the onyx from the Bešište village in western Macedonia have beenexamined in order to determine the possibility to use them as architectural stone. The analyses and the laboratoryexamination were performed on samples of travertine and onyx. The samples were taken fromthe surface parts. The results for their physical mechanical features shown that the rock mass, accordingto the Macedonian standards, satisfies the requirements to be used as an architectural stone, The quality ofthe stone is higher in the deeper parts of the field where the external influences have a very small effect.This stone has highly decorative features but it also has fine grained structure which is a positive effectfor the technical characteristics and the subjection for processing and production.
Downloads
Download data is not yet available.
References
Arsovski, M.: Tectonic of Macedonia. Faculty of Mining and Geology, Štip, 1997.
Barić Lj.: Disten, andalusite and silimanite in the area of Yugoslavia. Papers of the Geological Institute of SRM, 8, Skopje, 1956.
Dumurdžanov, N., Hristov, S., Pavlovski, B., Ivanov, V.: Explanation for the page Vitolište–Kajmakčalan, BGM SFRY 1 : 100 000, Geological Institute, Skopje, 1976.
Dumurdžanov, N., Hristov, S.: Basic Geological Map 1 : 100 000 for the sheet Prilep, Geological Institute, Skopje, 1976.
Colman C.: Previous report for the results of the geological mapping in the area of the lower part of the river Crna in the region between Mrzen and Galište. Papers of the Geological Institute of SRM, 2, Skopje, 1951.
Ilić, M.: General characteristic of pegmatite from Babuna Mountain and the vicinity of Prilep and useful minerals there. Gazette of Natural museum of Serbian country, А, III. Belgrade, 1950.
Izmajlov, N.: Mariovo, Preliminary report of geological mapping south of Crna Reka in Klinovo – Rozden area. Мариово, Претходни извештај на геолошкото карти- рање јужно од Црна Река. Papers of Geological Institute of the Republic of Macedonia Vol. 2, 1951.
Kossmat F.: Geologie der zentralen Balkan Halbinsel. Mit einer Übersicht des dinarischen Gebirgsbaues. Berlin, 1924.
Marić, L.: Metamorphic rocks formcopper area in Veslec south and southwest from Prilep. Discussions of the Academy of Sciences and Arts IV. Ljubljana, 1949.
Mayer B.: Meta-gabbro from Selečka Mountain. Papers of the Geological Institute of SRM, 7, Skopje, 1960.
Protić M.: About the metamorphism and alkaline metasomatosis in the area of Selečka Mountain in Macedonia. Geological
Annals of the Balkan Peninsula. XXX, Belgrade, 1963.
Spasovski Orce, Kostovski Zoran, Spasovski Daniel: The possibilities to use the travertine and onyx – Gulabova cave, Bešište village (western Macedonia) as an architectural stone. Proceedings. 2012, pp. 103–108,.
Spasovski Orce, Spasovski Daniel: Possibiliies for using travertine from the Nabigori deposit, village of Velmej (western
Macedonia) as architectural stone. Geologica Macedonica, 29 (1), pp. 47–52 (2015). ISSN 0352-1206.
Spasovski Orce, Spasovski Daniel: Possibilities for using travertine Police, village Manastir (western Macedonia) as
architectural stone. Podeks-Poveks '15. VIII Expert Conference "Technology of underground and surface mining of mineral raw materials" Krusevo, 2015, pp. 35–41. ISSN 978-608-65530-3-6.
Spasovski O.: Elaborate for detailed geological investigations of the mineral raw material onyx and travertine on locality of the village of Bešište, Municipality of Prilep. Professional fund of Amadeus stone DOOEL Skopje, 2016, pp. 0–75.
Stojanov R.: Petrologic characteristics of igneous and metamorphic rocks from the wider vicinity of Prilep. Doctoral thesis. Faculty of Mining and Geology, Belgrade, 1974.
Teofilović M.: Geological composition and tectonic structure of mountain complex Kozjak – Nidže and Selečka Mountain. Spacial issue I.G.R.N.M.S. vol. 1, 1966, Belgarde.
Cvijić J.: Fundamentals of Geology and Geography of Macedonia and Old Serbia. SCAN. Vol. I (1906), Belgrade.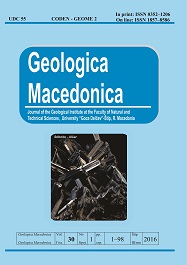 How to Cite
SpasovskiО., Doneva, B., & Spasovski, D. (2016). Mineralogical-petrographic and physical-mechanical characteristics of the travertine and onyx from Bešište village (western Macedonia). Geologica Macedonica, 30(1), pp. 23-. Retrieved from https://js.ugd.edu.mk/index.php/GEOLMAC/article/view/1428