MINERALOGY AND GEOCHEMISTRY OF TRACE ELEMENTS FROM CRVEN DOL – ALŠAR DEPOSIT (REPUBLIC OF MACEDONIA)
Ivan Boev

Ajka Šorša

Goran Tasev

Dalibor Serafimovski

Blažo Boev
Abstract
The results of new mineralogical study by the X-ray diffractions and the results of the analysis of the trace elements and rare earth elements (REE) in the ore mineralization of Crven Dol by the ICP-MS are presented in this paper. Mineralogical study suggested very interesting mineral associations presented by lorandite, realgar, orpiment, vrbaite, bernardite, jankovichite, fangite, rosenite, farmacolite, marcasite, pyrite, sulfur, gypsum, dorallcharite, dolomite, quartz. The content of trace elements and REE in the surrounding rocks and in the ore mineralization suggested the idea of influence of the ultramafic rocks from the western flank of the Vardar zone in the hydrothermal activity in the Alšar deposit, especialy in the ore body Crven Dol.
Key words: trace element; REE; lorandite; Crven Dol
Downloads
Download data is not yet available.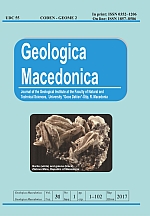 How to Cite
Boev, I., Šorša, A., Tasev, G., Serafimovski, D., & Boev, B. (2017). MINERALOGY AND GEOCHEMISTRY OF TRACE ELEMENTS FROM CRVEN DOL – ALŠAR DEPOSIT (REPUBLIC OF MACEDONIA). Geologica Macedonica, 31(1), 5-20. Retrieved from https://js.ugd.edu.mk/index.php/GEOLMAC/article/view/1889