CHARACTERIZATION AND APPLICATION OF CLINOPTILOLITE FOR REMOVAL OF HEAVY METAL IONS FROM WATER RESOURCES
Afrodita Zendelska

Mirjana Golomeova

Šaban Jakupi

Kiril Lisičkov

Stefan Kuvendžiev

Mirko Marinkovski
Abstract
The aim of this article is characterization of natural zeolite (clinoptilolite) and its application for removal of heavy metals from aqueous solution. Characterization of the natural zeolite from Beli Plast deposit, Kardjali, was conducted using: classical chemical analysis, XRD, SEM/EDS, DTA/TG/DTG, XRF, FTIR and BET. Based on the results of the chemical composition, XRD, SEM/EDS and FTIR analyses, it is evident that the major component of the working material (~ 95%) is clinoptilolite. In fact, the working material is alumino-silicate with high silicate module and it is of clinoptilolite type. The applied material has the specific surface area of 31.3 m2/g determined by BET method with nitrogen adsorption. The maximum capacity of clinoptilolite towards zinc, nickel and cobalt removal under the studied conditions is approximately 3.5 mg/g, for copper and manganese is approximately 4.5 mg/g and for lead ions is approximately 30 mg/g. Natural zeolite (clinoptilolite) was used as a potential raw material for the purpose of removal of Cu(II), Zn(II), Mn(II), Pb(II), Co(II) and Ni(II) ions from model solutions. The experimental results were obtained in a laboratory scale batch glass reactor with continuous stirring at 400 rpm. The adsorption of studied heavy metal ions from solution were efficiently onto used adsorbent and approximately 90% from ions were removed from single ion solutions. Generally, it can be concluded that studied clinoptilolite is a potential raw material for effective removal of heavy metals ions from various types of waste waters.
Key words: clinoptilolite; natural zeolite; heavy metals; characterization
Downloads
Download data is not yet available.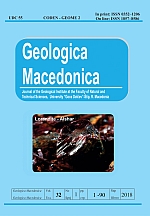 How to Cite
Zendelska, A., Golomeova, M., Jakupi, Šaban, Lisičkov, K., Kuvendžiev, S., & Marinkovski, M. (2018). CHARACTERIZATION AND APPLICATION OF CLINOPTILOLITE FOR REMOVAL OF HEAVY METAL IONS FROM WATER RESOURCES. Geologica Macedonica, 32(1), 21-32. Retrieved from https://js.ugd.edu.mk/index.php/GEOLMAC/article/view/2311