GEOPHYSIC MODEL OF THE EARTH'S CRUST AND GEODYNAMIC POSITION OF LEAD-ZINC DEPOSITS OF THE REPUBLIC OF NORTH MACEDONIA AND NEIGHBORING COUNTRIES
Alexander Volkov

Institute of Geology of Ore Deposits, Petrography, Mineralogy, and Geochemistry, Russian Academy of Sciences, Staromonetnyi per. 35, Moscow, 119017 Russia

Todor Serafimovski

Institute of Geology, Faculty of Natural and Technical Sciences, "Goce Delčev" University, Blvd. Goce Delčev 89, MK–2000, Štip, Republic of North Macedonia

Andrey Galyamov

Institute of Geology of Ore Deposits, Petrography, Mineralogy, and Geochemistry, Russian Academy of Sciences, Staromonetnyi per. 35, Moscow, 119017 Russia

Goran Tasev

Institute of Geology, Faculty of Natural and Technical Sciences, "Goce Delčev" University, Blvd. Goce Delčev 89, MK–2000, Štip, Republic of North Macedonia
Abstract
The north-westward direction of distribution of the Pb-Zn deposits in North Macedonia, Serbia and Greece corresponds to the trend of the average density and temperature of the upper mantle. A similar direction is also noted in the structure of the Moho. The thickness of the sedimentary layer of the upper crust varies from 7.8 km in the areas of Dinaridе complexes and Serbo-Macedonian massif down to 100 m in the Vardar Zone. At the same time, the smallest thicknes is observed in the places of the densest distribution of Pb-Zn deposits. Blocks of the forming tectonic melange in the Vardar suture zone were squeezed up and eroded, which was possibly due to a decrease in the thickness of upper crust sedimentary layer and the lithosphere as a whole, as well as due to the high eclogitization of the lower ophiolite blocks. During the same period the deposits (Cu-Ni, SEDEX) previously formed due to ophiolites and rifts were exhumed as a result of uplifting and erosion processes and the new Cu-porphyry, skarn and / or vein (PbZn) deposits were formed during the magmatic arcs formation. Thus, the local area of the Besna Kobyla–Osogovo metallogenic zone containing the Sasa and Toranica deposits is the most eroded. Based on this conclusion, the southern direction of the zone seems to be prospective for new Pb-Zn deposits under the surface.
Key words: Balkans; North Macedonia; geodynamic situation; geophysical model; Earth's crust; deposit; lead; zinc; forecast
Downloads
Download data is not yet available.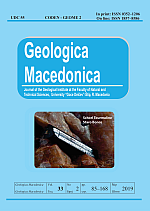 How to Cite
Volkov, A., Serafimovski, T., Galyamov, A., & Tasev, G. (2019). GEOPHYSIC MODEL OF THE EARTH'S CRUST AND GEODYNAMIC POSITION OF LEAD-ZINC DEPOSITS OF THE REPUBLIC OF NORTH MACEDONIA AND NEIGHBORING COUNTRIES. Geologica Macedonica, 33(2), 89-98. Retrieved from https://js.ugd.edu.mk/index.php/GEOLMAC/article/view/3324