CONTRIBUTION TO THE WIDENING AND CONFIRMATION OF THE MINERAL ASSOCIATION IN THE BOROV DOL ORE DEPOSIT, BASED ON SEM ANALYSIS
Lazar Gjorgjiev

"Goce Delčev" University in Štip, Blvd. Goce Delčev 89, 2000 Štip, Republic of N. Macedonia

Nastja Rogan-Šmuc

Faculty of Natural Sciences and Engineering, University of Ljubljana, Slovenia

Dalibor Serafimovski

"Goce Delčev" University in Štip, Blvd. Goce Delčev 89, 2000 Štip, Republic of N. Macedonia

Matej Dolenec2

Faculty of Natural Sciences and Engineering, University of Ljubljana, Slovenia
Abstract
The latest mineralogical study of the Borov Dor copper porphyry deposit have selected a total of 6 representative samples from 4 exploration drill holes and treated in laboratory conditions with a study under optical polarization microscope and a scanning electron microscope (SEM). Six representative pairs of monomineral and polymineral parageneses were identified and their chemical compositions with their associated minerals were determined, too. Quartz-chalcopyrite-sulfide paragenesis stands out as dominant and mainly chalcopyrites are very close their theoretical compositions. Within simple sulphide paragenesis come quartz-pyrite-chalcopyrite in which pyrite is dominant with compositions that are also close to theoretical. Chalcopyrite-bornite paragenesis stands out as transformation one during the decay of the solid solution, where the lattice structure of the bornite in the corroded chalcopyrite predominates. The compositions show a tendency of transition in both chalcopyrite and bornite directions and defectivness is observed. In a similar constellation are the solid solution decays in the chalcopyrite-cubanite pair where the compositions of both interaction minerals have undergone modification, but clearly indicate the transformation phase. Even more characteristic is the transformation phase in chalcopyrite-bornite-idaite where the transitions are gradual and the mixed phases defective to allowable level. This sequence of transformations ended with the tetrahedra-tenantite phases with multiple variants. Of particular note is the quartz-molybdenite phase with pure molybdenite rod-like forms as a representative of higher temperature mineral paragenesis.

Key words: ore minerals; mineral association; porphyry copper deposit; scanning electron microscope
Downloads
Download data is not yet available.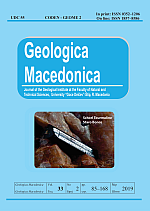 How to Cite
Gjorgjiev, L., Rogan-Šmuc, N., Serafimovski, D., & Dolenec2M. (2019). CONTRIBUTION TO THE WIDENING AND CONFIRMATION OF THE MINERAL ASSOCIATION IN THE BOROV DOL ORE DEPOSIT, BASED ON SEM ANALYSIS. Geologica Macedonica, 33(2), 99-109. Retrieved from https://js.ugd.edu.mk/index.php/GEOLMAC/article/view/3325