CHARACTERIZATION OF PHOSPHOGYPSUM FROM DUMPS OF VELES PHOSPHATE FERTILIZER FACTORY (NORTH MACEDONIA) AND ENVIRONMENTAL IMPLICATIONS
Mitko Jančev

Faculty of Natural and Technical Sciences, "Goce Delčev" University in Štip, Blvd. Krste Misirkov 10-A, P.O, box 210, 2000 Štip, North Macedonia

Ivan Boev

Faculty of Natural and Technical Sciences, "Goce Delčev" University in Štip, Blvd. Krste Misirkov 10-A, P.O, box 210, 2000 Štip, North Macedonia

Zdenka Stojanovska

Faculty of Medical Sciences, "Goce Delčev" University in Štip, Blvd. Krste Misirkov 10-A, P.O, box 210, 2000 Štip, North Macedonia

Blažo Boev

Faculty of Natural and Technical Sciences, "Goce Delčev" University in Štip, Blvd. Krste Misirkov 10-A, P.O, box 210, 2000 Štip, North Macedonia
Abstract
The work of the factory for the production of fertilizers in the area of Veles (Republic of North Macedonia) resulted in a residual amount of approximately 3.4 million tons of phosphogypsum, which was deposited at the dump adjacent to the plant between 1980 and 2003. So far, no remediation of the phosphogypsum dump has been performed. This paper presents the results obtained from representative samples taken from the phosphogypsum dump by applying the following methods: analytical methods (ICP-MS, FUS-ICP-MS), mineralogical methods, X-ray powder diffraction (powder-XRD), electron microscopy (SEM-EDS), and high-resolution γ-ray spectrometry. The samples contain crystalline gypsum (Ca-sulphate), Fe-hydroxide, Ba-sulphate, Ca-fluoride, Si-oxy-hydroxide and zircon.The gross alpha specific activities varied between 820 Bq/kg and 1090 Bq/kg with an average of 950 ± 104 Bq/kg, while the gross beta specific activities ranged from 1380 Bq/kg to 1980 Bq/kg with an average of 1694 ± 220 Bq/kg.
Key words: phosphogypsum; fertilizer; mineralogical; alpha and beta specific activities
Downloads
Download data is not yet available.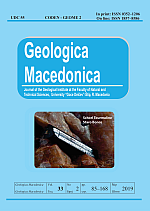 How to Cite
Jančev, M., Boev, I., Stojanovska, Z., & Boev, B. (2019). CHARACTERIZATION OF PHOSPHOGYPSUM FROM DUMPS OF VELES PHOSPHATE FERTILIZER FACTORY (NORTH MACEDONIA) AND ENVIRONMENTAL IMPLICATIONS. Geologica Macedonica, 33(2), 111-124. Retrieved from https://js.ugd.edu.mk/index.php/GEOLMAC/article/view/3326