GEOPHYSICAL AND GEOTECHNICAL EXPLORATIONS ON THE FORTRESS ISAR – ŠTIP
Blagica Doneva

1Faculty of Natural and Technical Sciences, Institute of Geology, "Goce Delčev" University in Štip, Blvd. Goce Delčev 89, 2000 Štip, Republic of North Macedonia

Iva Tomova

Geing Krebs und Kiffer International DOO, Skopje, Republic of North Macedonia

Gjorgi Dimov

Faculty of Natural and Technical Sciences, Institute of Geology, "Goce Delčev" University in Štip, Blvd. Goce Delčev 89, 2000 Štip, Republic of North Macedonia

Marjan Delipetrev

1Faculty of Natural and Technical Sciences, Institute of Geology, "Goce Delčev" University in Štip, Blvd. Goce Delčev 89, 2000 Štip, Republic of North Macedonia
Abstract
The aim of this paper is to define the geotechnical and seismic-geological characteristics of the terrain of the investigated аrea, the local disorders and discontinuities that indicate the presence of weakened and disintegrated zones. The research is performed using the geotechnical investigations and seismic refractive method and consists of field measurements, processing and analysis of the obtained results. The object of the investigation is the Acropolis of the fortress Isar. Analyzing the obtained data, three lithological environments are distinguished which are characterized by different physical and mechanical characteristics. The following lithological environments are distinguished: surface layer made of deluvium and crushed material from a mother rock reaching an interval of 0–4 m; subsurface zone consisting of a fragmented degraded mother rock with a depth of 6 to 10 m, characterized by quite poor physical-mechanical characteristics and represents a critical zone; intensely cracked rocks at depths greater than 10 m where the physical-mechanical characteristics of the rock are improved.

Key words: exploration; geotechnics; seismic method; refraction; tomography; fortress Isar
Downloads
Download data is not yet available.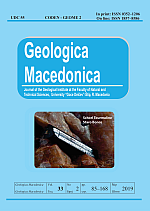 How to Cite
Doneva, B., Tomova, I., Dimov, G., & Delipetrev, M. (2019). GEOPHYSICAL AND GEOTECHNICAL EXPLORATIONS ON THE FORTRESS ISAR – ŠTIP. Geologica Macedonica, 33(2), 147-158. Retrieved from https://js.ugd.edu.mk/index.php/GEOLMAC/article/view/3328