EXPLORE THE BRIEFCASE - LEARNING ABOUT RAW MATERIALS THROUGH NON-CONVENTIONAL TEACHING TOOLS
Kim Mezga

Slovenian National Building and Civil Engineering Institute, Dimičeva 12, SI-1000 Ljubljana, Slovenia

Petra Vrhovnik

Slovenian National Building and Civil Engineering Institute, Dimičeva 12, SI-1000 Ljubljana, Slovenia

Dragana Šolaja

Slovenian National Building and Civil Engineering Institute, Dimičeva 12, SI-1000 Ljubljana, Slovenia

Lidia Gullón

Foundation Gómez Pardo, Calle de Alenza, 1, 28003 Madrid, Spain

Alenka Mauko Pranjić

Slovenian National Building and Civil Engineering Institute, Dimičeva 12, SI-1000 Ljubljana, Slovenia

Ainara Garcia Uriarte

Fundación Tecnalia Research & Innovation, Parque Científico y Tecnológico de Bizkaia, C/ Geldo, Edificio 700, E-48160 Derio – Bizkaia, Spain
Abstract
We live in a material world where the markets are flooded with all kinds of products. At the same time, we are facing a population growth, as well as a product demand growth. But, are we aware of the raw materials needed for our favourite daily products? In which part of the world are they extracted? Do we recognize the value chains from the mine to the product? And, where do these products end up after we use them? Many school curriculums include this topic only briefly, thus there is a need to raise awareness among youngsters about mining and raw materials in general. EIT RawMaterials funded by the European Commission, is the largest community dealing with raw materials in Europe. One of its main objectives is to raise awareness among general public about the raw materials and their indispensability, about the consequences of their uses, about the mining and production systems as well as about the utilization and recycling. Innovative and attractive pathways are employed in the process. One of the projects bringing raw materials and mining closer to pupils is the BRIEFCASE project. Using non-conventional teaching methods, tools and guided workshops, the project provides pupils with a unique hands-on experience. It draws their attention to raw materials and their applications and helps pupils recognize minerals in products we use every day. Besides emphasizing the importance of minerals in our everyday life and addressing sensible issues like conflict minerals, the consequences of our purchase decisions, the sustainability of mining operations and their environmental implications are also presented.

Key words: BRIEFCASE project; raising awareness; minerals; non-conventional teaching tools; EIT RawMaterials; sustainability
Downloads
Download data is not yet available.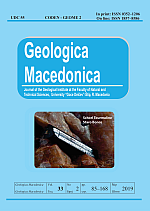 How to Cite
Mezga, K., Vrhovnik, P., Šolaja, D., Gullón, L., Mauko Pranjić, A., & Garcia Uriarte, A. (2019). EXPLORE THE BRIEFCASE - LEARNING ABOUT RAW MATERIALS THROUGH NON-CONVENTIONAL TEACHING TOOLS. Geologica Macedonica, 33(2), 159-166. Retrieved from https://js.ugd.edu.mk/index.php/GEOLMAC/article/view/3329