Geochemical properties of lead-zinc slag landfill from MHK Zletovo in Veles, North Macedonia
Robert Šajn

Trajče Stafilov

Blažo Boev

Todor Serafimovski

Goran Tasev

Zlatko Ilijoski

Ivan Boev
Keywords:
RIS-RECOVER; Pb-Zn slag deposit; MHK Zletovo; Veles; North Macedonia
Abstract
"Regional innovation scheme for zero waste extraction of critical raw materials" (RIS-RECOVER)
project, was implemented within the framework of the European Institute of Innovation and Technology (EIT) to evaluate and select the most promising technologies for mineral and metallurgical extraction of elements from metallurgical
slag in the Republic of North Macedonia. This project focused on metallurgical slag from the former Pb-Zn smelting
plant "MHK Zletovo", which was disposed of in the vicinity of Veles. Samples of waste material were obtained out by
drilling through the slag deposit at eight locations and collecting samples at 2 m intervals. Using inductively coupled
plasma – mass spectrometry (ICP-MS) 60 chemical elements were analyzed. It was found that the slag deposit is
heterogeneous. The most abundant metals of interest for further extraction were Zn and Pb, followed by Cd, Ag, Au
and In. However, the following metals were also present in economical quantities: As, Be, Bi, Cu, Fe, Mn, Nb, Pd, Sb,
Se, Sn, Te and Tl, along with rare earth elements. The average Zn content was 9.6% (between 5.6 and 14%), and the
total amount of about 120,000 t indicates a viable economic benefit in the recovery of metals from this landfill
Downloads
Download data is not yet available.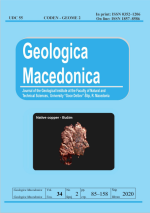 How to Cite
Šajn, R., Stafilov, T., Boev, B., Serafimovski, T., Tasev, G., Ilijoski, Z., & Boev, I. (2020). Geochemical properties of lead-zinc slag landfill from MHK Zletovo in Veles, North Macedonia. Geologica Macedonica, 34(2), 89-104. https://doi.org/10.46763/GEOL20020089sh