The importance of educating younger generations about raw materials and their uses in our daily life
Kim Mezga

Petra Vrhovnik

Janja Žmavc

Lidia Gullon
Keywords:
raw materials; mining; pupils and students; non-conventional teaching tools; BRIEFCASE; 3D BRIEFCASE; curricular planning; EIT RawMaterials
Abstract
Raw materials are of great importance for humankind as they enable the development of technology,
drive industry and economy, and overall the lifestyle we know today. The paper is addressing the topic of interactive learning about the mineral raw materials, i.e. metals and non-metals. Due to population growth and consequently increased global demand for raw materials, there is a need to educate younger generations about the raw materials and their properties and origin, so they would know from an early age where the mineral products they use come from and how purchase decisions affect the social environments of people who live in countries with resources exploitation. Today's trends in mining are oriented towards more sustainable exploitation and management, taking into account the economic, social and environmental aspects. An example of such is exploitation of secondary raw materials from tailings and heaps. But in some countries, mining is stuck in the past, using obsolete technologies causing increased pollution and strongly present linear economy approaches of take-use-dispose attitudes or even unethical approaches, such as children being exploited as a cheap workforce, people being abducted, tortured and even killed over minerals (minerals being exploited in such way are called blood or conflict minerals). Further, due to the potential negative impacts
on health and safety, due to the emissions in air, water and surface disturbance, the public perception of mining is still perceived as negative in most cases. School curriculums most often lack description of current situations in the global mining. Therefore, within the EIT RawMaterials BRIEFCASE and 3D BRIЕFECASE projects the project partners provide the comprehensive view of the issues of today's mining and use of raw materials. The paper presents the description of both projects and the non-conventional teaching methods — the hands-on and digital tools for pupils and teachers, i.e. the briefcases, the "Briefcase of mineral applications" game, workshops and the supporting materials. The main objective of projects is to raise the pupils' awareness about the utility and indispensability of minerals and mining and the consequences of their uses and production systems, which would increase in the long term the awareness about the social and environmental consequences of raw material production.
Downloads
Download data is not yet available.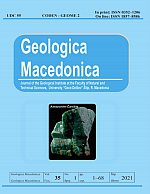 How to Cite
Mezga, K., Vrhovnik, P., Žmavc, J., & Gullon, L. (2021). The importance of educating younger generations about raw materials and their uses in our daily life. Geologica Macedonica, 35(1), 27-38. https://doi.org/10.46763/GEOL21351370027km