Applications of copper slag in the construction sector
Mateja Košir

Ana Mladenovič

Alenka Mauko Pranjić
Keywords:
copper slags; construction sector; recycling; circular economy
Abstract
Copper slags generated during the primary copper smelting have, due to its favorable mineralogical and chemical composition, several possible end uses in the resource demanding construction sector. Copper slags are made via two different processing methods; slow air cooling or water granulation. Air cooling results in final well crystalline and dense product, which is used usually as coarse aggregates in the building sector, however, water granulation results in a sand-like material with a high quantity of amorphous phase. The present paper gives and overview of the recent reports and good practices in the utilization of these slags, including also some drawbacks and potential issues in a certain type of copper slag, either air cooled or granulated and could serve as a guideline for selecting the most promising applications in the construction sector.
Downloads
Download data is not yet available.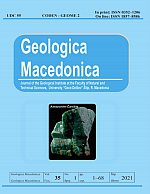 How to Cite
Košir, M., Mladenovič, A., & Mauko Pranjić, A. (2021). Applications of copper slag in the construction sector. Geologica Macedonica, 35(1), 59-66. https://doi.org/10.46763/GEOL21351373059mk