Possibilities for using granodiorite of "Lozjanska Reka" (Village of Kruševica, Western Macedonia) as an architectural stone
Sašo Stojkov

Orce Spasovski
Abstract
The granodiorite of the Lozjanska Reka, western Macedonia, has been examined in order to determine the possibility to be used as an architectural stone. The samples were taken from the surface parts, and the results from their physical and mechanical examination have shown that rock mass itself satisfies all requirements form the use as architectural stone according to the state standards of R. Macedonia. Also the quality of the stone is greater in the deeper parts of the terrain where the influences from the outside have a very small effect. This stone does not have highly decorative features but it has a very fine grained structure which has a positive effect for the technical characteristics and for the being a subject for processing.
Key words: granodiorite; Lozjanska Reka; architectural stone; mineralogic-petrographic composition;physical-mechanical characteristics
Downloads
Download data is not yet available.
References
Барић, Љ.: Извештај о теренскомраду у околини Прилепа. Год. Геол. Инст. Кр. Југ. за 1939 год. Београд (1940).
Буе, А.: Геолошка скица Европске Турске. Додатaк Геолошких анала Балканског полуострва, 3. Београд (1891).
Цвијић, Ј.: Основе за географију и геологију Македоније и Старе Србије. Посеб. изд. С. А., књ. I, Београд (1906).
Цвијић, Ј.: Основе за географију и геологију Македоније и Старе Србије, књ. III, Београд (1911).
Думурџанов, Н., Христов, С., Павловски, Б., Иванова, В.: Толкувач за Основна геолошка карта 1:100000 за листот Витолиште–Кајмакчалан. Стр. фонд на Геолошкиот завод, Скопје, стр. 60 (1976a).
Думурџанов, Н., Христов, С.: Толкувач за Основна геолошка карта 1:100000 за листот Витолиште. Стр. фонд на Геолошкиот завод, Скопје. стр. 65 (1976b).
Думурџанов, Н.: Петрогенетски карактеристики на високометаморфните и магматски карпи на централните и западните делови на Селечка Планина (СР. Македонија). Geologica Macedonica, T II, sv. 1. pp. 3–104, (1985), Штип.
Марић. Љ.: Проучавање кристаластих стена Кајмакчалана. Изв. о раду Геол. инст. Кр. Југ. за 1935 год. Београд (1936).
Марић, Л.: Петрографска и геолошка градња околине Прилепа и СИ од Прилепа у Јужној Србији. Весн. Геол. инст. Кр. Југ., књ. VIII, Београд (1940).
Николов, Н.: Циянитот от Селечка Планина в Македония. Труд. на Бугарското природоизпит, дружество, кн. IX, София (1921).
Николов, Н.: Белешки врху петрографията и геологията на Селечка Планина в Македония. Год на Софис. Унив. Физ. Мат. Факултет, кн. 3, София (1924).
Ракичевиќ, Т., Стојанов, Р., Арсовски, М.: Основна геолошка карта 1:100000, лист Прилеп. Стр. фонд на Геолошкиот завод, Скопје (1965a).
Ракичевиќ, Т., Стојанов, Р., Арсовски, М.: Толкувач за Основна геолошка карта 1:100000, лист Прилеп. Стр. фонд на Геолошкиот завод, Скопје, стр. 65 (1965b).
Стојанов Р.: Претходни резултати од геолошките и петрографските истражувања на Селечка Планина. Трудови на Геолошкиот завод на Република Македонија, св. 6, стр. 127–180 (1958).
Стојанов Р.: Претходни резултати од геолошките и петрографските истражувања на високо метаморфните стени од централниот дел на пелагонскиот масив. Трудови на Геолошкиот завод на Република Македонија, св. 7, стр. 147–178 (1960).
Стојанов, Р.: Фенгити на пелагонскиот масив. Трудови на Геолошкиот завод на Република Макдеонија, св. 13 (1968).
Стојанов, Р.: Петролошки карактеристики на магматските и метаморфните стени од пошироката околина на Прилеп. (Македонија). Посенбно издание на Геолошкиот завод, Скопје, бр. 4 (1974).
Тучан, Ф.: Минералошко-петрографска проучавања у кристаластом масиву између Прилепа и Кајмакчалана. Гласн. Ск. Нуч. Др-ва, књ. II, св. 1 и 2. Скопље (1926).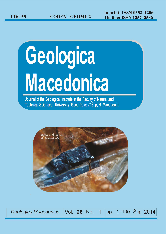 How to Cite
Stojkov, S., & Spasovski, O. (2014). Possibilities for using granodiorite of "Lozjanska Reka" (Village of Kruševica, Western Macedonia) as an architectural stone. Geologica Macedonica, 28(1), pp. 19-. Retrieved from https://js.ugd.edu.mk/index.php/GEOLMAC/article/view/849