QUALITATIVE-QUANTITATIVE CHARACTERISTICS OF THE MARBLES FROM PLETVAR AREA (MK) AND POSSIBILITIES FOR THEIR EXPLOITATION
Keywords:
architectural-building stone, dolomitic marble, ore reserves, rock quality, chemical-mineralogical composition, structural-textural features
Abstract
The use of marbles as a building - architectural stone, because of their aesthetic - technical characteristics, has a long tradition in Macedonia from ancient times until today. Dolomitic white marbles are most prevalent in studied area and clearly different from the gray-white and gray dolomitic marbles. The samples were determined as a fine-grained dolomitic marble, which mineralogically and chemically are quite pure. According petrological, mineralogical and microscopic tests and chemical analysis of these dolomitic marbles, can find wide application in construction and in civil engineering, the concrete mixtures, and other hydrotechnical works. It can also be used as architectural stone allows removal of larger blocks. Based on calculations performed on mining stocks can be concluded that the investigated area is promising in terms of exploitation of white dolomitic marble.
Downloads
Download data is not yet available.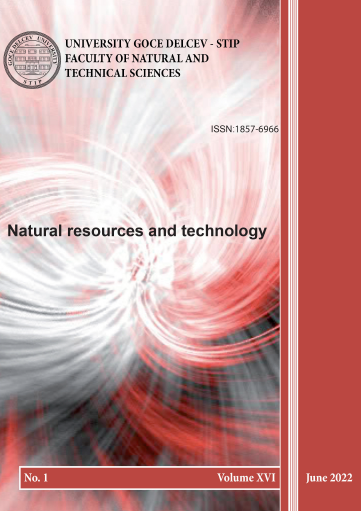 How to Cite
Spasovski, O. (2022). QUALITATIVE-QUANTITATIVE CHARACTERISTICS OF THE MARBLES FROM PLETVAR AREA (MK) AND POSSIBILITIES FOR THEIR EXPLOITATION. Natural Resources and Technology, 16(1), 47-52. https://doi.org/10.46763/NRT22161047s