MEASUREMENT ON COMPENSATION CAPACITANCE IN INDUCTIVE NETWORK BY MICROCONTROLLER
Goce Stefanov

Saso Gelev

Todor Cekerovski
Abstract
Abstract
In the paper are presents the results of a practically realized prototype on an microcontroller circuit for
determined on the compensation capacitance in inductive network. In energy networks with high inductive
load the reactive energy is high and therefore these networks operate with a low power factor. In such
networks to reduce the reactive energy are installed compensating capacitors. The solution in the paper
determines the required capacitance in inductive networks to reduce reactive energy and increase the power
factor to one unit. The realized measuring circuit, in addition to determining the value of the compensation
capacitor, determines the current, voltage, active power, active energy and reactive energy. The circuit is
based on Atmega 328 microcontroller and smart power meter PZEM004. The capacitance value is visualized
on an LCD display, and the values of current, voltage, active power, compensation capacitance and power
factor are displayed on a serial monitor on the computer.
Key words
Power meter, Microcontroller, Measurement capacitance.
Downloads
Download data is not yet available.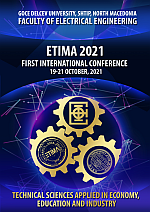 How to Cite
Stefanov, G., Gelev, S., & Cekerovski, T. (2021). MEASUREMENT ON COMPENSATION CAPACITANCE IN INDUCTIVE NETWORK BY MICROCONTROLLER. ETIMA, 1(1), 70-78. Retrieved from https://js.ugd.edu.mk/index.php/etima/article/view/4494