SIMULATION OF AN INDUSTRIAL ROBOT WITH THE HELP OF THE MATLAB SOFTWARE PACKAGE
Dusko Pleskov

Saso Gelev

Goce Stefanov
Abstract
Abstract
Robotics is an applied technical science that is a link between machines and computer technology. Robotics
includes various branches such as machine design, control and regulation theory, computer programming,
artificial intelligence and theory of production. In other words, robotics is an interdisciplinary science that covers
the fields of mechanics, electronics, informatics and automation. In this paper we will deal with industrial robots
or industrial manipulators. The first part of the paper will explain the basic concepts of industrial manipulators.
The different configurations of the industrial manipulators and their working space will be considered. The second
(practical) part of this paper will explain the modeling and simulation of the Scara robot in Matlab. The movement
of the robot from point to point will be simulated (application in palletizing, spot welding, assembly, etc.).
Keywords: industrial manipulators, modeling and simulation, Scara robot, Matlab,
Downloads
Download data is not yet available.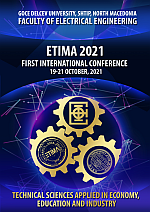 How to Cite
Pleskov, D., Gelev, S., & Stefanov, G. (2021). SIMULATION OF AN INDUSTRIAL ROBOT WITH THE HELP OF THE MATLAB SOFTWARE PACKAGE. ETIMA, 1(1), 86-94. Retrieved from https://js.ugd.edu.mk/index.php/etima/article/view/4496