E-LEARNING – CYBER SECURITY CHALLENGES AND PROTECTION MECHANISMS
Dimitar Bogatinov

Goce Stevanoski

Monika Kacurova
Abstract
Аbstract
In the successful functioning of modern society, the traditional educational methods are not enough, and
new methods must be introduced. Given the constant development of technology today, a high-quality
workforce is needed as much as possible. The fast changes in the modern way of living are forcing a life
in virtual spaces, in which smart devices are an essential part.
The e-learning concept offers several advantages to educational organizations that use this technology,
including short and effective training, flexibility, and modulation. The Internet is increasingly used for a
variety of online courses, so one of the essential tasks is understanding the e-learning security issues.
The security aspect is very important for the companies creating e-learning platforms, which should
consider the safety of the instructors, the students, as well as the companies / educational institutions
that use the services. In this paper, we will look at the threats to the security and privacy of the most
popular e-learning systems and suggest methods for overcoming those challenges.
Keywords: e-learning, threats, security and privacy.
Downloads
Download data is not yet available.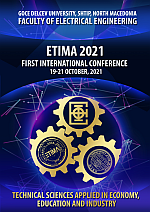 How to Cite
Bogatinov, D., Stevanoski, G., & Kacurova, M. (2021). E-LEARNING – CYBER SECURITY CHALLENGES AND PROTECTION MECHANISMS. ETIMA, 1(1), 156-163. Retrieved from https://js.ugd.edu.mk/index.php/etima/article/view/4504