IOT SYSTEM FOR SHORT-CIRCUIT DETECTION OF DC MOTOR AT EKG-15 EXCAVATOR
Milutin Radonjić

Božo Krstajić

Žarko Zečević
Abstract
Abstract
In this paper, we present a concept of an IoT system that monitors the DC motor at the EKG-15 excavator. The
proposed system is designed for the coal mine "Rudnik uglja Pljevlja", which uses this type of excavator for
surface mining. Due to the type of excavation and the work procedures of the excavator, it often happens that the
DC motors that drive the bucket of the excavator are in the so-called short circuit. During that time, a large
current flow through the motor, which is electronically limited to a value of 2kA. However, there is no limitation
in the time domain, which means that this current can flow for an unlimited time. If the operator keeps the
excavator control lever in the active position for too long, during a short circuit, the DC motor will burn out. In
that case, large repair costs are generated, and the excavator is out of order for a long time. Therefore, there is
a need to alarm the operator that the motor is short-circuited, as well as to keep records of such events, to
determine the causes of motor burnout and liability. The proposed system is based on a microprocessor hardware
platform for short-circuit detection of DC motor and perform the mentioned functions. Experimental and
implementation results showed that this IoT platform provides the collection of data that can be useful in the
process of analyzing the operation and predictive maintenance of the excavator.
Keywords
DC motor, Excavator, IoT.
Downloads
Download data is not yet available.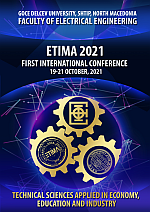 How to Cite
Radonjić, M., Krstajić, B., & Zečević, Žarko. (2021). IOT SYSTEM FOR SHORT-CIRCUIT DETECTION OF DC MOTOR AT EKG-15 EXCAVATOR. ETIMA, 1(1), 222-230. Retrieved from https://js.ugd.edu.mk/index.php/etima/article/view/4512