DESIGN OF A PHOTOVOLTAIC POWER PLANT
Sara Aneva

Todor Cekerovski

Marija Cekerovska
Abstract
Abstract
The largest source of renewable energy is the Sun. The energy from the Sun, called solar energy, is free, safe
and least harmful to the environment. Solar energy is converted into electricity by devices based on
semiconductor materials, called photovoltaics. If the production of electricity from fossil fuels is replaced by
the production of electricity from sunlight there will be much lower emissions of carbon dioxide. This paper
analyzes the location, solar radiation and network connection for the provided location for the photovoltaic
power plant. For collecting data on solar radiation, satellite data at a specific location were used. Based on
these analyzes, the technical characteristics of the photovoltaic power plant with a total installed power of
201.6 kW are dimensioned and selected. The principal scheme of the photovoltaic power plant and the scheme
of the AC Junction box are drawn in the software package Edraw max. Finally, the economic and financial
profitability of the photovoltaic power plant is reviewed and proven.
Key words: solar energy, solar radiation, network connection, Photovoltaic Power Plant, AC Junction box,
economic and financial profitability.
Downloads
Download data is not yet available.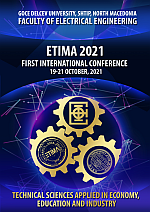 How to Cite
Aneva, S., Cekerovski, T., & Cekerovska, M. (2021). DESIGN OF A PHOTOVOLTAIC POWER PLANT. ETIMA, 1(1), 231-240. Retrieved from https://js.ugd.edu.mk/index.php/etima/article/view/4513