IMPACT OF FAULTS IN TRANSMISSION AND DISTRIBUTION NETWORK ON VOLTAGE SAGS
Boris Cintula

Peter Janiga
Abstract
Abstract
This article deals with the issue of evaluation of voltage sags based on the analysis of the impact of different fault
types in power systems. The aim is to identify a range of influences of considered faults on voltage sags in the
industrial low voltage network. The analysis is based on the simulation calculation of selected faults to classify
negative effects causing potential improper operation of industry equipment due to faults in the power system. In
the paper are also described options of proposed measures for minimization of these phenomena.
Key words
Short-circuit, earth fault, voltage sag, industrial network, distribution system, simulation.
Downloads
Download data is not yet available.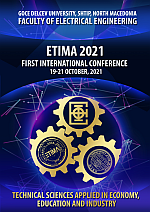 How to Cite
Cintula, B., & Janiga, P. (2021). IMPACT OF FAULTS IN TRANSMISSION AND DISTRIBUTION NETWORK ON VOLTAGE SAGS. ETIMA, 1(1), 278-289. Retrieved from https://js.ugd.edu.mk/index.php/etima/article/view/4519