PROGRESS OF NO-INSULATION HTS MAGNET DEVELOPMENT TOWARDS ULTRA-HIGH MAGNETIC FIELD GENERATION
Takanobu Mato

Syumpei Mori

So Noguchi
Abstract
Abstract
In this paper, we present the progress of the development of a No-Insulation (NI) winding technique. The NI
technique is recognized as a technology necessary for the ultra-high magnetic field generation, because the NI
technology drastically improves the thermal stability of High Temperature Superconducting (HTS) magnets.
Many researchers have presented several types of the NI coils, such as Metal-as-Insulation (MI), Conductive-
Epoxy-Resin-Covered (CERC), and intra-Layer No-Insulation (LNI) coils. However, the thermal stabilities of
these coils are not clarified nor compared. Hence, in this paper, we systematically investigate the thermal
stabilities and conduct the thermal stability comparison among these coils.
Key words
HTS magnets, No-insulation winding technique, thermal-stability, ultra-high field.
Downloads
Download data is not yet available.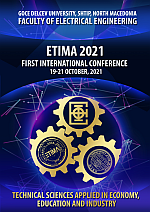 How to Cite
Mato, T., Mori, S., & Noguchi, S. (2021). PROGRESS OF NO-INSULATION HTS MAGNET DEVELOPMENT TOWARDS ULTRA-HIGH MAGNETIC FIELD GENERATION. ETIMA, 1(1), 319-325. Retrieved from https://js.ugd.edu.mk/index.php/etima/article/view/4523