THE PICTURE OF THE MIDDLE AGES IN THE NOVEL "HARD TO BE A GOD" BY A. AND B. STRUGATSKY
Abstract
The article will examine how the authors Arkady and Boris Strugatsky created their own picture of the Middle Ages in the story "Hard to be a God" (1964). The events in the novel unfold on another planet with an unknown name, in the city Arkanar, the capital of the Arkanar kingdom. This planet is a part of the so-called World of Noon in literary pieces by Strugatsky Brothers and represents a special world that can be compared with the transitional stage between late feudalism and the Renaissance in the history of the Earth.
Keywords: Russian literature of the XX century, science fiction, A. and B. Strugatsky, Middle Ages.
Downloads
Download data is not yet available.
References
Андреев, Кирилл (2009). Как читать Стругацких в XXI веке. Инструкция. Доступно 14 апреля 2009 г. https://www.film.ru/articles/kak-chitat-strugackih-v-xxi-veke-instrukciya
Бондаренко С, & Курильский В. (2009). Неизвестные Стругацкие. Письма. Рабочие дневники. 1963–1966 г.г, Москва: АСТ, Киев: НКП.
Козьмина Е. (2012). Жанровая специфика романа А. и Б. Стругацких "Трудно быть богом". Вестник РГГУ. Серия: История. Филология. Культурология. Востоковедение, 98 (18), 100–107.
Козьмина, Е. (2017). Фантастический авантюрно-исторический роман: поэтика жанра / Е. Козьмина. — Москва; Екатеринбург: Кабинетный учены.
Мамаева, Наталия (2015). Трудно быть богом. Доступно 2015 г. http://www.rusf.ru/abs/rec/mam005.htm
Неелов Е. М. (1986). Волшебно-сказочные корни научной фантастики. А. и Б. Стругацкие. "Трудно быть богом". Доступно 2015. г. http://elibrary.karelia.ru/book.shtml?id=3711
Переслагин С. Б. (1997). Детектив по Арканарски. Доступно 2006. г. http://www.rusf.ru/abs/rec/peresl03.htm
Ревич, Всеволод (1991). Трудно быть человеком... Доступно 2002. http://www.fandom.ru/about_fan/revich_18.htm
Стругацкие А. и Б. (2009). Трудно быть богом. Москва: АСТ.
Стругацкий, Борис (1998). Комментарии к пройдённому. Доступно 2. декабря 1999. http://194.8.8.217/cgi-bin/win/LYNX/STRUGACKIE/comments.txt
Сувин, Дарко (1988). О научно-фантастическом творчестве братьев Стругацких, Пер. А. Кузнецовой. Доступно 17 февраля 2009. http://fan.lib.ru/a/ashkinazi_l_a/text_2220.shtml

***
Kulikova A., Yulia (2011). The Contribution of the Brothers Strugatsky to the Genre of Russian Science Fiction, Accessed on June 2011. https://scholarsbank.uoregon.edu/xmlui/bitstream/handle/1794/11525/Kulikova_Yulia_A_ma2011sp.pdf?sequence=1
Lerner, Amanda (2018). Remembering the Future: Time Travel Narratives in Soviet and Post-Soviet Russia. Accessed on May 2018. https://search.proquest.com/openview/4ad5ca111f028b4d4ce46fa6cc945331/1?cbl=18750&diss=y&loginDisplay=true&pq-origsite=gscholar
Suvin, Darko (1972). Criticism оf the Strugatsky Brothers' Work.Canadian – American Slavic Studies, 6 (2), 286-307.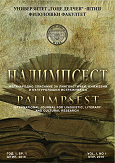 How to Cite
Milenic, Z. (2020). THE PICTURE OF THE MIDDLE AGES IN THE NOVEL "HARD TO BE A GOD" BY A. AND B. STRUGATSKY. PALIMPSEST / ПАЛИМПСЕСТ, 5(10), 35-42. https://doi.org/10.46763/PALIM20100035m
Section
КНИЖЕВНОСТ/ LITERATURE