PUNS AND TRANSLATION CHALLENGES: ΜΟΙΡΑΙΟΙ ΑΝΤΙΚΑΤΟΠΤΡΙΣΜΟΙ BY PETROS MARTINIDIS IN FRENCH AND IN ITALIAN
Abstract
The present work proposes a comparative analysis of the French and Italian translations of puns extracted from the novel Μοιραίοι Αντικατοπτρισμοί (Reflections of Fate) by Petros Martinidis. Given the fact that the chosen Greek novel has been translated only into French, by Henri Tonnet, we tried to propose some Italian translation solutions of the analyzed passages. Therefore, word games based on sound (paronyms and homophones, homeoteleuton and alliterations) and on meaning (metaphors and figurative images, sayings and proverbs, amphibologies, and fixed expressions) are studied, as well as their translation from the source to the target language.
Keywords: traductology; translation; puns; modern Greek literature; detective novel; Petros Martinidis.
Downloads
Download data is not yet available.
References
I. Corpus
MARTINIDIS, P. (2003). Μοιραίοι Αντικατοπτρισμοί. Athènes, Grèce : Nefeli.
MARTINIDIS, P. (2013). Reflets du destin, (Henri Tonnet). Paris, France : L'Harmattan.

II. Autres œuvres
APEL, F. (1997). Il movimento del linguaggio. Una ricerca sul problema del tradurre. Dans Emilio Mattioli & Riccarda Novello (éds.), Milano: Marcos y Marcos.
BALLARD, M. (2006). Qu'est-ce que la traductologie ? Arras Cedex : Artois Presses Université.
BERGSON, H. (1900/2013). Le rire. Paris, France : Flammarion.
Calvino, I. (2002). Sul tradurre. Dans Mario Barenghi (Ed.), Mondo scritto e mondo non scritto. Milano: Mondadori.
GUIDERE, M. (2008). Introduction à la traductologie. Penser la traduction : hier, aujourd'hui, demain. Bruxelles, Belgique : De Boeck.
HENRY, J. (2003). La traduction des jeux de mots. Paris, France : Presses Sorbonne Nouvelle.
PRIVATE, M. (1997). Proverbes, métaphores et traduction. Paremia.
SELESKOVITCH, D. & Lederer, M. (1984). Interpréter pour traduire. Paris, France : Publications de la Sorbonne.
TODOROV, T. (1978). Symbolisme et Interprétation. Paris, France : Le Seuil.
BRISSET, F., LOISON-CHARLES, J., JENN, R. & COUSSY, A. (2017, Mars 23-24). Du jeu dans la langue. Traduire les jeux de mots. [Présentation de colloque]. Université de Lille, France. Consulté le 20.02.2019 https://traduirelesjeuxdemots.univ-lille3.fr/.
VAN LANGENDONCK, M. (2014). Jeux de mots et humour langagier : Depuis quand, comment et pourquoi notre « françois » joue-t-il avec ses maux ? (Environnement/éthique/ Consumérisme). Dans Ludobel. Consulté le 22.02.2019 http://ludobel.be/2014/07/30/jeux-de-mots-et-humour-langagier-depuis-quand-comment-et-pourquoi-notre-francois-joue-t-il-avec-ses-maux/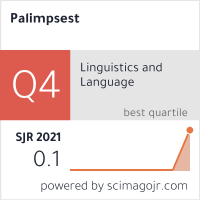 How to Cite
Ambroso, F. (2021). PUNS AND TRANSLATION CHALLENGES: ΜΟΙΡΑΙΟΙ ΑΝΤΙΚΑΤΟΠΤΡΙΣΜΟΙ BY PETROS MARTINIDIS IN FRENCH AND IN ITALIAN. PALIMPSEST / ПАЛИМПСЕСТ, 6(11), 59-72. https://doi.org/10.46763/PALIM21116059a