MYTHOLOGISATION OF ASTROPHENOMENA (ARCHAEOASTRONOMIC AND ETHNO-ASTRONOMICAL DECODING OF SLAVIC MYTHS IN CEPENKOV'S FOLKLORE MATERIAL)
Nina Anastasova-Shkrinjarik
Abstract
The purpose of this research is to affirm the view that the lack of authentic written and archaeological testimonies of Old Slavic mythology can be compensated by a more intensive inclusion of folk tradition. Тhe application of the folklore-ethnographic method can fulfill many gaps in the complete representation of the ancient Slavic faith, the apostroffe in this research is placed on the ethnographic materials from Cepenkov's folk collection (notes of folk beliefs and superstitions). In this mythological reconstruction, other folklore materials from Cepenkov's records are taken into account, which contain remnants of the former mythological beliefs, which over time are filled with new symbolic content and thus are "resemanticized". By checking certain mythological beliefs from Old Slavic mythology on selected folklore material, the continuity of certain mythical representations was proved. Hence the conclusion that some of the Old Slavic mythological beliefs (potentially from the Old Slavic myths!) have survived in the folk tradition, and the reconstruction of the Old Slavic mythical heritage can be intensified by applying the folklore-ethnographic method.
Keywords: Folklore-ethnographic method, Slavic mythology, ethno-astronomy, folk beliefs and legends, astronomical-meteorological codes.
Downloads
Download data is not yet available.
References
Анастасова-Шкрињариќ, Н. (2004). Словенски Пантеон. Скопје: Менора.
Анастасова- Шкрињариќ, Н. (2017). Перуновата стрела. Скопје: Табернакул.
Вражиновски, Т. (1998). Народна митологија на Македонците. Скопје/ Прилеп: Матица македонска/ Институт за старословенска култура.
Вражиновски, Т. (2000). Речник на народната митологија на Македонците. Скопје/ Прилеп: Матица македонска/ Институт за старословенска култура.
Пенушлиски, К. (1982). Кон народните приказни на Марко К. Цепенков. Во: Марко Цепенков/Светот на приказните. Скопје: Мисла.
Саздов, Т. (1997). Историја на македонската книжевност, Усна народна книжевност. Скопје: Детска радост.
Цепенков, М. (1972). Народни верувања и детски игри. Едиција: Македонски народни умотворби, I-X. Скопје: Македонска книга.
Цонев, Ѓ. (2004). Небото над Македонија. Скопје: МКЦ.
Чаусидис, Н. (1994). Митските слики на Јужните Словени. Скопје: Мисла.

Електронски извор
Јанковић, Н. Астрономија у предањима, обичајима и умотворинама Срба. https://www.semanticscholar.org/paper/%D0%90%D1%81 (пристапено на 15.01. 2021).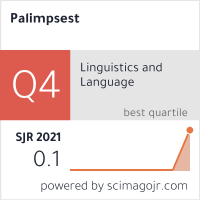 How to Cite
Anastasova-Shkrinjarik, N. (2021). MYTHOLOGISATION OF ASTROPHENOMENA (ARCHAEOASTRONOMIC AND ETHNO-ASTRONOMICAL DECODING OF SLAVIC MYTHS IN CEPENKOV'S FOLKLORE MATERIAL). PALIMPSEST / ПАЛИМПСЕСТ, 6(11), 161-170. https://doi.org/10.46763/PALIM21116161sh
Section
КНИЖЕВНОСТ/ LITERATURE