"THE ACCIDENTAL TOURIST" IN THE CONTEXT OF ZOOMED-IN IMAGES IN THE MULTIMODAL INTERPERSONAL VIDEO COMMUNICATION
Sunčana Tuksar

Mauro Dujmović
Abstract
The aim of this paper is the analysis of interpersonal practice regarding the functions of a) semiotic and cultural connotations stemming from the prepandemic travel perceptions; b) global media interactions; c) cognition of (post)pandemic context of visual representations of social actors online. Our contemporary society is significantly marked by transcultural encounters, even more so on the notable hypothesis that the 20th century travel and tourism triggered global sociocultural exchange. Paradoxically, recently prescribed social distance and radical lockdowns have brought human interaction closer together due to unprecedented domination of close-ups or "Zoomed"-in video conferencing. Further challenges in technologically mediated world induced new types of literacy. Thus, the outlook of the 21century regime of images emphasizes multimodal production of meaning potentials for social actors in the image. Prevalence of visual representations of universal human interactions reflects cultural and biological traits, which contribute to participatory communicative apparatus. We "travel" (the world) less but "visit" (platforms) more; Metaphorically, the tourist experience has dramatically commuted online. Here, the term "accidental tourist" describes the unexpected practice of the individual, who still manages social encounters online, yet requires offline competences. The expected outcome includes the image-related dialogue on a broader scale of thel exposure in a sociosemiotic landscape, therefore a proposed concept provides for the applicable acquisition model for such practices.
Keywords: multimodality, transculturality, tourism, social distance, images, video conferencing, interpersonal visual competences.
Downloads
Download data is not yet available.
References
Berno, T. (1999). When a guest is a guest. Annals of Tourism Research, 26 (3), 656–675.
Barthes, R. (1964). The Rhetoric of the Image. https://skyecloud.files.wordpress.com/2010/12/2med443-the-rhetoric-of-the-image-cla.pdf
Castells, M. (2000). Uspon umreženog društva. Zagreb: Golden marketing.
Chen, G-M., & Starosta, J. W. (2008). Intercultural Communication Competence: A Synthesis. The Global Intercultural Communication Reader, Asante et. al. (eds). New York: Routledge, 215–237.
Cohen, E. (1972). Who is a tourist? A conceptual clarification. Sociological Review, 2, 527–253.
Cohen, E. (2004). Contemporary Tourism: Diversity and Change. Oxford: Elsevier.
De Kadt, E. (1979). Tourism –Passport to Development? New York: Oxford University Press.
Evans, N. (1976). Tourism and cross-cultural communication. Annals of Tourism Research, 3, 189–199.
Hamelink, C. J. (2015). Global Communication. London: Sage Publications.
Hartley, J. (2002). Communication, Cultural and Media Studies; The Key Concepts. Third Edition. London and New York: Routledge.
Kress, G.; & van Leeuwen, T. (2006). Reading Images. London and New York: Routledge.
Kress, G. & van Leeuwen, T. (n.d.). On Multimodality.
https://newlearningonline.com/literacies/chapter-8/kress-and-van-leeuwen-on-multimodality
L'Pree Corsbie-Massay, C. (2021). 20th Century Media and the American Psyche; A Strange Love. New York and London: Routledge.
Lash, S., & Urry, J. (1994). Economies of Signs and Space. London: Sage.
Machin, D. (2007). Introduction to Multimodal Analysis. New York: Oxfor University Press.
McLuhan, M. (1964). Understanding media. New York: McGraw-Hill.
Morris, D. (2002). People Watching. London: Vintage Books.
Poon, A. 1993. Tourism, Technology and Competitive Strategies. Wallingford: CAB International.
Pratt, M.L. (1992). Imperial Eyes: Travel Writing and Transculturation. London: Routledge.
Reisinger, Y. (2009). International Tourism, Cultures and Behaviours. Oxford: Elsevier.
Samovar L. A., Porter, R. E., & McDaniel, E. R. (2010) Communication Between Cultures. Seventh Edition. Boston: Wadsworth, Cengage Learning.
Scott, L., & Batra, R. (2003). Persuasive Imagery; A Consumer Response Perspective. New Jersey and London: Lawrence Erlbaum Associates.
Spitzberg, B. H., & Cupach, W. R. (1984). Interpersonal Communication Competence. Beverly Hills, CA: Sage.
Stöckl, H., Caple, H., & Pflaeging, J. (2020). Shifts towards Image-centricity in Contemporary Multimodal Practices. New York: Routledge.
Tuksar, S. (2021). Prekoračenja; Transmedijska kultura i film. Pula: Sveučilište Jurja Dobrile u Puli.
UNESCO 1976. The effects of tourism on socio-cultural values. Annals of Tourism Research, 4, 74–105.
Van Leeuwen, T., & Jewitt, C. (2001). Handbook of Visual Analysis. New Delhi and Singapore: Sage.
Wearing, S., Stevenson, D., & Young, T. (2010). Tourist Cultures: Identity, Place and the Traveller. London: Sage.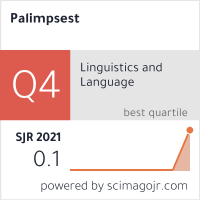 How to Cite
Tuksar, S., & Dujmović, M. (2021). "THE ACCIDENTAL TOURIST" IN THE CONTEXT OF ZOOMED-IN IMAGES IN THE MULTIMODAL INTERPERSONAL VIDEO COMMUNICATION. PALIMPSEST / ПАЛИМПСЕСТ, 6(11), 211-226. https://doi.org/10.46763/PALIM21116211t