"COMPUTER POETRY" IN THE MASS MEDIA ERA
Abstract
This paper is a presentation of Slavcho Koviloski's latest collection of poems entitled "Computer Poetry". The book was published in 2021 and is published by MI-AN from Skopje. In the presentation we will aim to dwell on the seven thematic threads in Koviloski's poetry.
Keywords: poetry, mass media, poetic language, topics.
Downloads
Download data is not yet available.
References
Ковилоски, Славчо (2020). Компјутерска поезија. Скопје: МИ-АН.
Младеноски, Ранко (2018). Теорија на книжевноста. Штип: Филолошки факултет, Универзитет "Гоце Делчев".
Ќулавкова, Катица (1984). Фигуративниот говор и македонската поезија. Скопје: Наша книга.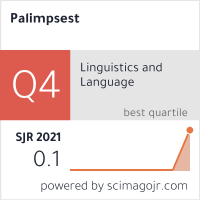 How to Cite
Mijakovska, M. (2021). "COMPUTER POETRY" IN THE MASS MEDIA ERA. PALIMPSEST / ПАЛИМПСЕСТ, 6(11), 299-303. https://doi.org/10.46763/PALIM21116299m
Section
ПРИКАЗИ / BOOK REVIEWS