OBSERVATIONS ON A SUBGROUP OF LIGHT VERB CONSTRUCTIONS WITH DAVA IN WHICH THE METAPHORICAL EXTENSION OF INTERPERSONAL COMMUNICATION IS PRESENT
Natasha Stojanovska-Ilievska
Abstract
This paper focuses on a subgroup of Macedonian light verb constructions (LVCs) with дава (give) which can be interpreted as a transfer of a verbal message from the first to the second human participant, as one of the possible metaphorical extensions of (give) is in the field of verbal communication. The second participant is oftentimes not overtly expressed on the surface of the text, but can be reconstructed from the context. These LVCs are mainly based on verbs of speaking and some verbs of cognition, and unlike the LVCs based on deontic verbs of communication, in these constructions the first participant does not try to alter the behavior of the second human participant. Although it may seem at first sight that LVCs (with their verbo-nominal structure) are simply stretched versions of already existing full verbs (FVs), yet there is no absolute synonymity and interchangeability between them. The rationale behind the use of a LVC as opposed to its full verb (FV) counterpart lies in the information structuring potential of LVCs (evident in the possibility for reduction of arguments), as well as the advantages offered by presence of a nominal component in the LVC, such as quantification and premodification by adjectives.
Keywords: light verb constructions; light verbs; metaphorical extensions; give.
Downloads
Download data is not yet available.
References
Единици на латиница
Аlgeо, John (2006). British or American English: A Handbook of Word and Grammar Patterns. Cambridge: Cambridge University Press.
Allerton, David J. (2002). Stretched Verb Constructions in English. London: Routledge.
Brinton, Laurel J. (2011). The grammaticalization of complex predicates. In: B. Heine & H. Narrog (eds.), The Oxford Handbook of Grammaticalization. Oxford: OUP, 559–569 .
Brinton, Laurel J. & Traugott, Elizabeth Closs (2005). Lexicalization and Language Change. Cambridge: Cambridge University Press.
Brugman, Claudia (2001). Light Verbs and Polysemy. Language Sciences, 23, pp. 551–78 .
Gradečak-Erdeljić, Tanja. & Mario Brdar (2012). Constructional meaning of verbo-nominal construction in English and Croatian. Suvremena lingvistika 38/73: 29–46.
Howarth, Peter (1998). The phraseology of learners' academic writing. In: A.P. Cowie, (ed.), Phraseology: Theory, Analysis and Applications. Oxford: Oxford University Press, pp.161–86.
Huddleston, Rodney. & Pullum, Geoffrey (2002). The Cambridge Grammar of the English Language. Cambridge: Cambridge University Press.
Jespersen, Otto (1942). A Modern English Grammar on Historical Principles, Part VI, Morphology. London: George Allen and Unwin Ltd.
Krenn, Brigitte & Erbach, Gregor (1993). Idioms and Support Verb Constructions. In: J. Nerbonne, K. Netter, C. Pollard (eds). German in Head-Driven Phrase Structure Grammar - CSLI Lecture Notes Nr. 46. Stanford (CA): CSLI Publications, pp. 365–396.
Newman, Јоhn (1996). Give - A Cognitive Linguistic Study. Berlin: Mouton de Gruyter.
Nickel, Gerhard (1968). Complex Verbal Structures in English. International Review of Applied Linguistics 6, 1–21.
Traugott, Elizabeth Closs (1999). A Historical Overview of Complex Predicates. In: L. J. Brinton and M. Akimoto (eds.). Collocational and Idiomatic Aspects of Composite Predicates in the History of English. Amsterdam: John Benjamins, 239–260.

Единици на кирилица
Ивић, Милка (1988). Још о декомпоновању предиката. Во Јужнословенски филолог XLIV. Беoград: Институт за српскохрватски језик. стр.1–5.
Лазиќ-Коњик, Ивана (2006). Структура, функција и лексикографска обрада перифрастичних предиката – на примерима из дневне штампе. Во Зборник Матице Српске за филологију и лингвистику, 49(1). Нови Сад: Матица српска. стр. 219–304.
Миркуловска, Милица (1991). Перифрастични предикати у македонском језику и њихови пољски еквиваленти (необјавен магистерски труд). Беoград: Филолошки факултет.
Радовановић, Милорад (1977). Декомпоновање предиката (на примерима из српскохраватског језика). Во Јужнословенски филолог XXXIII, Беoград: Институт за српскохрватски језик. стр. 53–78.
Стојановска-Илиевска, Наташа (2016). Перифрастичните предикати (ПП) со дава во кои е присутно метафоричкото проширување за меѓучовечка комуникација. Philological Studies Vol. 14, No. 2.
Тополињска, Зузана (1982). Перифрастични предикатски изрази на међусловенскким релацијама. Во Јужнословенски филолог XXXVIII. Београд: Институт за српскохрватски језик. стр. 35–49.
Toполињска, Зузана (2000). Полски – Македонски: Граматичка Конфронтација. 3. Студии од морфосинтаксата. Скопје: МАНУ.
Чашуле, Илија (1989). Синтакса на македонската глаголска именка. Скопје: НИО Студентски збор.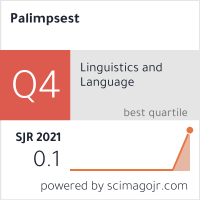 How to Cite
Stojanovska-Ilievska, N. (2021). OBSERVATIONS ON A SUBGROUP OF LIGHT VERB CONSTRUCTIONS WITH DAVA IN WHICH THE METAPHORICAL EXTENSION OF INTERPERSONAL COMMUNICATION IS PRESENT. PALIMPSEST / ПАЛИМПСЕСТ, 6(12), 17-26. https://doi.org/10.46763/PALIM21612017si